In August, Athletic Business surveyed fitness facility managers in all sectors of the industry regarding the management of their class offerings.
Not surprisingly, group exercise and personal training rule the programming day, but a majority of respondents also offer small group training and bootcamps. A strong plurality of respondents invest significant time in their class offerings — 50 hours a week or more — and a majority dedicate 30 or more hours per week. Moreover, much importance is placed on variety, with a full third of respondents reporting that they offer more than a dozen different class titles. More than half indicate that their classes are taught entirely by in-house staff, and nearly half employ 11 or more instructors to handle the workload.
SURVEY RESULTS: Click here to see full survey results, word clouds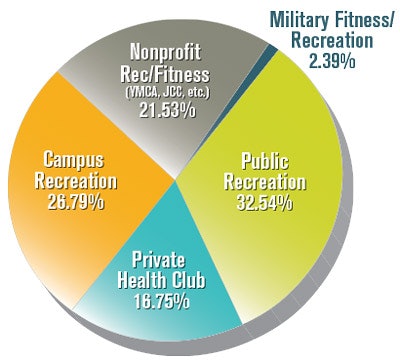 WHAT'S HOT?
One-hundred-fifty-two respondents shared their single most popular class offering. For 31 of them, it's Zumba (including three who offer an aquatic version), and another 24 report yoga in some form. (Yoga was also mentioned by 19 of the 125 of those who responded to our question about classes they intend to add next year.) Bootcamps top the pop list of an additional 15 respondents. Also getting multiple mentions: body pump (eight), high-intensity interval training or Tabata (five), and cardio kickboxing, barre and CrossFit (two each). Meanwhile, various classes involving seniors topped the list of new fewer than seven respondents.


WHAT'S NOT?
One-hundred-thirty-five respondents answered our open question about classes they have cancelled within the past year. Turns out Zumba isn't so hot everywhere, as 18 responded that they've reduced or cut their Zumba offerings. Eleven have cut Pilates to some degree. Eighty-two percent of respondents cited lack of demand as the reason for scaling back regardless of the class title, followed by the inability to find an instructor (26 percent) and lack of space/scheduling availability (14 percent).


WHAT'S QUIRKY?
When asked to name their most unique or quirky class offering, 131 survey participants responded with a range of answers — from Pilates to boxing to Piloxing, and from belly dancing (for seniors, no less) to ballroom dancing to line dancing. Of course, no list in our survey would be complete without Zumba, which got 11 mentions here. Additional class titles making the quirky list: Water Pilates, Cardio Drumming, African Groove, Willpower & Grace, Spa-ahh Time, Ride & Glide, Butts and Guts and Superhero Abs.
Almost 60 percent of respondents charge additional fees beyond membership to attend some or all classes offered. The smaller the class size (including personal training) and more specialized the offering (TRX, for example), the greater the likelihood that a fee will be charged. One respondent reports charging a fee for all group exercise, but then opening those classes to non-members, as well.
SOFTWARE
Finally, we wanted to learn how software fit into the fitness facility picture. A majority of respondents reported using software for each of these purposes: class registration, payment processing and communicating with class participants and other members. Survey respondents appear poised to expand their use of facility management software while being open to changing their software provider. Ease of use was by far the reason given when respondents were asked what they like about their current main software program, followed by versatility. Among aspects they like least: inability to customize or make changes, as well as the program's complexity and difficulty in navigation.


RELATED: Take Our Rec Center Survey, Be Entered to Win a Flat-Screen TV
RELATED: Blog: Zumba's Great - Just Not for Us
This article originally appeared in the October issue of Athletic Business with the headline "Lessons in Fitness Programming."