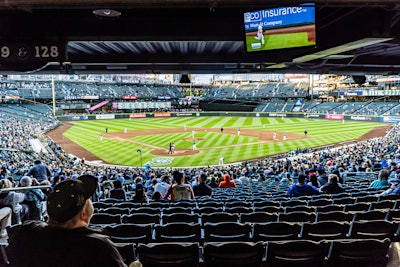 The Seattle Mariners have added three more food and beverage stores with Amazon's "Just Walk Out" cashierless technology.
As reported by Geek Wire, the three so-called "Walk-Off Markets," which will debut Thursday night when the Mariners open the season against Cleveland, join another that opened last season on the main concourse behind home plate. That location served the most fans out of any concessions outlet at T-Mobile Park last season, with the fastest shopping time being 20 seconds, and the average time being two minutes and three seconds.
From AB: How Contactless Sports Venues Are Keeping Fans Safe and Comfortable
T-Mobile Park is the leading ballpark in the country when it comes to this style of concession service, according to Geek Week, which added the goal of Just Walk Out tech at stadiums is to help fans avoid lines for food and drink and get them back in their seats as quickly as possible.
Houston's Minute Maid Park also introduced the Amazon technology last season.
Related: Astro's Minute Maid Park to Get 'Just Walk Out' Tech
Another player in the field is Standard IA, which introduced a cashierless retail space for MiLB's Worcester Red Sox in December 2021.
Related: MiLB's WooSox Open Cashierless Retail Store for Fans
Seattle's Lumen Field and Climate Pledge Arena both feature stores utilizing the Amazon technology, which relies on a number of cameras in the ceiling to track customers and what they pick up. Payment is tied to a credit card used to enter the stores.
The new markets at T-Mobile Park will also feature Amazon One, the company's palm-scanning technology that allows visitors to enter and pay with credit card information that is linked to a biometric reading of their hand. Fans can register for Amazon One at a kiosk on the spot., reported Curt Schlosser of Geek Wire.
---