When hiring group-exercise instructors, you're likely to learn more from an audition than from certifications.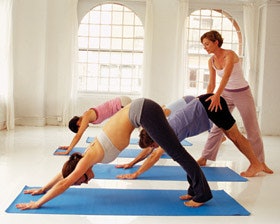 When Julie Smith became fitness director of the Brea (Calif.) Community Center Fitness Complex, she brought with her many years of experience in health clubs and corporate wellness. Having hired many exercise instructors in the for-profit and now nonprofit realms, she knows all about the available certifications that ensure the efficacy of workouts and the safety of participants.
And yet, Smith has hired one teacher at Brea who's a professor at Cal State Fullerton and another who's an international speaker. A manager at the Nordstrom's department store teaches a yoga class there one day a week, and an elementary school teacher "whose passion is fitness" teaches group-exercise classes. "She doesn't have a degree in kinesiology," Smith says, "but she is gifted."
Such is often the case in the area of group exercise, where personality counts as much as a person's educational background or experience. Leslie Grosshauser, director of group exercise at the Chicago-area health club chain Xsport Fitness, says this only stands to reason.
"Our members expect enthusiastic teachers who will motivate them," Grosshauser says. "They're coming into the classroom because they can't motivate themselves. To me, personality is sometimes more important than the class content. It's what's going to keep people moving and coming back to our gyms and classes."
One of the reasons for the success of Les Mills and other trademarked group-exercise programs is that the whole package is carefully developed and scripted. Any given group-exercise instructor can have a great personality, up-to-date fitness certifications, motivational abilities and a sense of rhythm, but what if her choice of music falls short? "Music is everything," Smith says. "If you took a cycling class and the music just didn't grab you, you wouldn't come back."
Smith is a huge fan of Les Mills (she offers BODYPUMPTM twice a day), largely because she knows exactly what she'll get in return for her monthly licensing fee - effective, safe workouts, of course, but also killer music and choreography. "BODYPUMP is successful because it's run by a team of professionals who are very passionate about it," she says. "If they weren't, it would never survive."
Grosshauser, on the other hand, says Les Mills isn't for her - and not just because of the licensing fee. "Their programs are wonderful, and I'm supportive of anything that gets people moving," she says. "But I've auditioned potential instructors who were just Les Mills-certified who I didn't hire because I couldn't relate to them. Because their instructors follow this format every single class, they have little creative freedom - I knew exactly what song was coming next and what move was coming next."
Instead, it's the creativity of wannabe instructors that Grosshauser expects will shine through in the auditions she runs. Typically these are one-on-one, hour-long classes with Grosshauser acting as the participant, but sometimes she brings in several potential hires and each runs a class attended by Grosshauser and the other potential hirees. Instructors bring their own music and do their own choreography in the style they intend to teach. "I like group auditions better because they let you see how instructors handle people with different fitness levels," Grosshauser says. "I won't let them audition with our club members, though, because if the audition is horrendous, I don't want it to reflect on our program."
Horrendous auditions are more frequent than you might think. "I have held auditions where I have no idea where these people think they're going to teach," Grosshauser says. "Sometimes I'll find out down the road that they're teaching for some other club locally and I'll just pray for the people in their classes."
When Smith first came to Brea, she was struck by the lack of energy exhibited by some of the group instructors, and decided that it must be a municipal-rec thing - a focus on families and the deconditioned that precludes an upbeat, club-like experience. If it was, it surely isn't now.
"I think people, even in a public facility, are increasingly going to demand a level of education, expertise, safety and energy," Smith says. "We're getting the baby boomers now, and these are educated people who are not going to come in for a whoop-de-do kind of class."
Smith hires from her network of people whose "passion is fitness," but she also goes to other facilities to take group-exercise classes. "I try people out before I bring them in," Smith says, and if she sees potential she'll schedule them to teach a series (a month of Friday evening classes, say), and see how many members attend and whether they are still attending four weeks later. She's particularly interested in instructors who can demonstrate active teaching skills as well as active arms and legs.
"We have a guy who went through Tae BoTM training - he walks the room, he's not on the platform the whole time, and he'll bring members up so they can be the model while he goes around to correct people's form," Smith says. "These are the types of instructors I look for, who have the energy but also the knowledge that safe movement is such an important element of the workout experience."
"What we look for is, of course, class content, the proper warm-up and cool-down," says Grosshauser. "More important, I look for good communication skills, a high level of confidence and how they motivate me as a participant. I can have someone who looks great on paper, but certifications are meaningless if he or she can't create a bond with the people in the class. We give instructors a critique, tell them what they need to improve on to work in our facility, but it's a very sensitive issue to say, 'You're not perky enough' or 'You don't smile enough.' It's kind of a personal thing."
Certifications do count for a lot, and Grosshauser thinks most highly of the Aerobics and Fitness Association of America certification because of its practicum in which instructors are graded on their teaching skills by the AFAA board. Still, the practicum can't grade an instructor's theatricality, so the auditions will continue as long as Grosshauser is doing the hiring.
"You've got to have personality, pizzazz - it's a performance!" she says. "You can say it's teaching, but group exercise requires a performance. People come to that classroom in part to be entertained. If all they wanted was a workout, they could just use the cardio pieces out on the fitness floor."