Confusion over who actually hired Brian Ferentz in February to serve as an assistant football coach at the University of Iowa resulted in more than one headline punctuated with a question mark.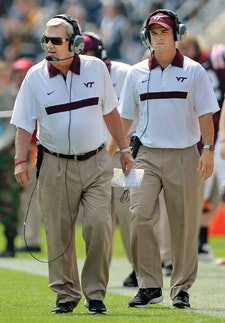 LIKE FATHER, LIKE SON
Shane Beamer brought recruiting skills and an established coaching track record to his dad's football staff at Virginia Tech. (Photo by John McDonnell/The Washington Post via Getty Images)
Confusion over who actually hired Brian Ferentz in February to serve as an assistant football coach at the University of Iowa resulted in more than one headline punctuated with a question mark. While Ferentz, who served on the New England Patriots' staff the past four seasons, made comments indicating that his father, Kirk, the Hawkeyes' head coach, had "reached out" to him with the opening, Iowa athletic director Gary Barta claimed it had been he who "was very interested in pursuing Brian Ferentz to become a member of our football staff due to his strong experience and success in the professional coaching ranks."
The younger Ferentz may turn out to be a perfect fit for Iowa, but the latter of the two hiring-process storylines best jibes with the university's nepotism policy. That policy states that hires involving blood relatives "should be avoided where possible, and otherwise disclosed and managed" to ensure employees are treated fairly. It further states that there must be a "sound institutional reason" for making such a hire, and that the relative with decision-making power must be removed from decisions affecting the other's employment. Kirk Ferentz purposefully did not participate in the hiring process, according to Barta, who has said that he will be able to supervise Brian Ferentz because he attends a lot of football practices and games. University leadership defended the hire, and an athletic department document outlining the process and management plan was released March 7.
That day - in a blog post titled "Gary Barta hired Brian Ferentz? Whatever!" - Cedar Rapids Gazette columnist Mike Hlas wrote, "This isn't a criticism of the hire in the least, it's merely derisive laughter at the lengths institutions will go (and often must go) to present themselves as doing things the proper way."
Indeed, the Iowa situation is hardly unique. In a letter dated Dec. 5, 2011, University of Arkansas vice chancellor and director of athletics Jeff Long offered Paul Petrino the position of offensive coordinator on his brother Bobby's football staff with this heads-up: "To assure compliance with the University's policies regarding nepotism (Board Policy 410.1), we will establish the following procedures for your employment. Your position will report directly to me, and I will be responsible for reviewing your performance annually, and for making any decisions to retain, promote, or adjust your salary."
(Somewhat ironically, Bobby Petrino was fired April 10 after it was discovered the coach had not been forthright about a motorcycle accident involving himself and an athletic department employee he had recently hired. That hire, of a woman with whom Petrino had been having a personal relationship, was made from an applicant pool of 159, leading Long to conclude that "an unfair and undisclosed advantage" had been given to Jessica Dorrell and that the relationship constituted "a conflict of interest under university policy.")
On many college sidelines, blood is thicker than Gatorade. Currently, there are sons working under fathers (Steve Spurrier Jr. is the wide receivers coach at South Carolina, and Aaron Price is Mike's offensive coordinator at UTEP), at least one father serving his son (Monte Kiffin is assistant head football coach under Lane at Southern California) and siblings working side by side (Mike Stoops is Oklahoma head football coach Bob's defensive coordinator). Not uncommon in higher education's academic circles, marital relationships crop up on occasion in athletics - last year, Loyola (Chicago) vice president and director of athletics M. Grace Calhoun hired her husband, Jason, to serve as interim women's golf coach. Athletics administration? Last September, the University of Kentucky Board of Trustees narrowly approved the hiring of Kirby Willoughby, daughter of UK athletic director Mitch Barnhart, as a graduate assistant in the athletic department.
The establishment of trust is critical in any kind of hiring process, including hires made in college athletics, according to Missouri State University professor Robert Jones, editor of Nepotism in Organizations, a collection of essays published this year by the Society of Industrial and Organizational Psychology. "It's time-consuming and it can be expensive, and you can make a lot of hiring mistakes before you come upon the right kind of people," Jones says. "I hire a family member, I've got an instant insight into who they are, what their values are, what they want, whether they belong here or not."
In the larger employment world, IO psychologists like Jones apply actuarial science to the personnel decision-making process, but measuring job performance after the fact can be difficult. Same goes for sports. Can it be proven that a team is performing better than it had been before, or better than rival teams, as a result of one nepotistic hire to the position of assistant coach? In his first season as running backs coach on his father Frank's Virginia Tech football staff, Shane Beamer mentored tailback David Wilson to a 1,600-yard season and 2011 ACC Player of the Year honors. Wilson's rushing attempts more than doubled from 2010, while his yards-per-carry average was only slightly better than those of the previous two seasons. Innumerable variables could be at play. (The Hokies posted 11-3 records before and after Shane Beamer's arrival.)
Sons who succeed their fathers as head coach can be more easily measured within the "brutal meritocracy" that is sports, says J. Patrick Dobel, a University of Washington public affairs professor specializing in strategy, management and ethics, and a former UW faculty athletics representative. Both Sean Sutton and Pat Knight were named "head coach designate" while assisting their legendary basketball-coaching fathers at Oklahoma State and Texas Tech, respectively. Sean followed Eddie's 368-151 record and 13 NCAA tournament appearances at OSU by going 39-29 in two full seasons that ended with first-round NIT defeats. He resigned under pressure in 2008. His successor, Travis Ford, inherited a team that had gone 17-16 the previous season and led the Cowboys to a 23-12 record and an appearance in the NCAA tournament.
In six seasons, Bob Knight's Tech teams never finished lower than 7th in the Big 12, but over the next three, Pat coached the Red Raiders to conference finishes no higher than 7th. The father, who retired midseason in 2008, garnered four NCAA tournament bids; the son not a one. In March 2011, Tech fired Pat Knight. Says Dobel, "What happens to these guys when their father's protection leaves? Most of them don't make it by any stretch, which tells you a lot."
There are exceptions. For 13 years, many of them successful, Joey Meyer steered the DePaul men's basketball program vacated by his father, Ray. (Even Pat Knight took a step outside of his dad's shadow this past season by leading Lamar University to a Southland Conference tournament title and an automatic NCAA bid.) But on balance, Dobel, who launched pointofthegame.blogspot.com three years ago and posted "Nepotism Fails in Sports" in January, thinks nepotistic hires are a bad idea. When asked if he's in favor of anti-nepotism policies in athletic departments, Dobel is less emphatic. "The market tends to penalize the teams that do it badly anyway," he says, adding that a policy that forbids handing a child his or her first coaching job might make sense. "But once the child has gone out and created a record, then it seems to me he or she has earned the right to be considered on the basis of that record."
A skilled recruiter with a track record established prior to his arrival in Blacksburg, Shane Beamer now holds the title of associate head coach at Virginia Tech, despite being the youngest member of what The Washington Post calls the most stable coaching staff in the country. With that comes pressure. "My whole life, I've wanted to be Shane and not Frank's son," Beamer told Post reporter Mark Giannotto in December. "I realize that when you're in coaching and your last name is Beamer and now you're at Virginia Tech working for your father, you're going to be looked at a little differently."
"A coach who hires one of his kids to be an assistant will have to deal with the outward perception that the hire was made regardless of qualifications, perhaps even by passing over much more qualified applicants," says Ohio University journalism professor Bill Reader. "That also puts a lot of pressure on the kid to deal with such preemptive criticism and the following hyper-awareness toward his or her mistakes on the job."
But perceived conflict of interest is the lesser of two nepotism issues, according to Reader, who wrote an essay titled "The High Cost of Nepotism" last November as the Penn State University scandal was unfolding. (Reader, who holds two degrees from Penn State, applied the term "nepotism" instead of "cronyism" to the case, since its major players were members of a tight-knit PSU "family.") "Effectual conflict of interest is obviously the big problem," he says. "Because of the complex interplay of loyalty, deference, parochialism, etc., inherent in nepotistic organizations, there will be very real issues of mismanagement - the 'kids' may not question the pater even when the pater is doing something questionable."
Whether a hire involves a blood relative or a descendant of the program itself, Reader says, "it takes a high degree of ethics and integrity for top-level administrators to curb abuses of nepotistic appointments. And when that means going against a wildly popular football coach, the stakes are that much higher."
According to documents released March 30 in response to an open records request by the The Associated Press, Brian Ferentz was culled from a pool of more than 100 candidates for the Iowa opening and, based on experience, was given an annual salary more than $15,000 greater than another assistant football coach hired at the same time. Kirk Ferentz was a search committee member for both positions, according to the documents.
Those details aside, sociologists still argue that nepotistic hires are altogether rational, and therefore nepotism is never going to be shown the door. "It's the way humans work," says Missouri State's Jones. "We're primates. Our core group is our family group, and shared values, trust and loyalty are very important to conventional morality."
And, provided the hiring process is transparent to all stakeholders involved, nepotism isn't necessarily all bad. "When you hire a family member," Jones says, "sometimes you're making the best hire."