As a former human resources specialist with a Ph.D. in organizational behavior, Milan Larson is well versed in the psychology of employees in the workforce. When the head softball coach at the University of Northern Colorado asked him about the concept of a 360-degree performance review process and how it might help her team, Larson, now a UNC business professor, looked online for a model specific to sports and couldn't find one. So he wrote one himself — a months-long process that involved talking to hundreds of athletes, coaches and parents at all levels of sport, ultimately yielding a 45-question survey. To date, four UNC coaches have used it to gain feedback on their programs from their student-athletes, as have numerous high schools in Colorado. Other collegiate programs and sports organizations have followed suit since Dare2Coach was officially launched one year ago. AB senior editor Paul Steinbach asked Larson to explain how the review process works.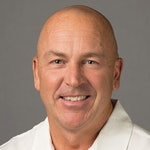 What makes your review process sport-specific?
Nobody in the sports industry was really measuring great coaching. That's not rocket science, because people can pretty much agree what makes a great coach. I used the sports psychology world, as well as information I had gained through my own research, and built this survey of questions as to what actually makes a great coach. There are four areas that the model represents: practice time, how coaches build relationships, what are they like during competition — do they become a Jekyll and Hyde? — and then how they see themselves.
How often should the process take place?
What you're trying to identify are gaps between what the coach thinks of himself and what his players think of him as a coach. Coaches should administer it a third of the way into the season, look for feedback, circle back to their players, "Okay this is what you told me. This is what I'm going to work on for the next month, and I'm going to come back and ask you again." What doesn't work, especially in sports, is this notion that we do reviews after the season ends. "Okay, how'd the season go?" Well, in sports, your roster changes over by 25 or 30 percent sometimes. You're trying to connect as a coach to your existing roster. That's why you want to do it throughout the season and not wait until after the fact.
The sports world has recently seen cases of coaches, even a team physician, abusing their power. Could a review process end such abuse?
I would say this: When the people who are in charge of the coaches in any sports organization give them the understanding that, "We want feedback from all perspectives on a regular basis. That's just in our DNA and that's the culture we're going to have," I think you mitigate abuse of power and you minimize it. There's no foolproof thing that's going to end it, but I think you've helped your odds a whole lot.
Can this help crystallize personnel decisions?
Here in Fort Collins, a high school athletic director almost jumped out of his chair when he saw this. "Oh, my gosh. I just let a coach go, and he was a personal friend. I knew that there were concerns with the athletes, but I had no data to go off. With your report, I would have been much more confident to sit down with this coach and say, 'Listen, you're thinking this is going well, but I'm telling you, your players don't think that, nor do the parents.' This would have helped me in my job immensely." At the end of the day, it isn't that we're out to get the coaches. It's really just to say, 'Let's all get better, at all of our jobs.' We have to get feedback on lots of different levels. In sports, they've just been doing it with wins and losses, and that's unfortunate.
---
This article originally appeared in the January|February 2018 issue of Athletic Business with the title "Refining the coaching-review process." Athletic Business is a free magazine for professionals in the athletic, fitness and recreation industry. Click here to subscribe.