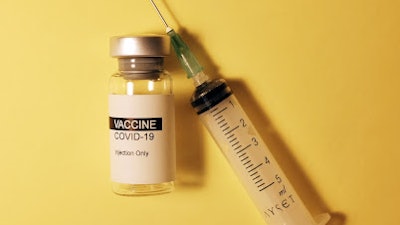 Nick Rolovich became the first major college coach to lose his job over vaccination status Monday when Washington State University fired him.and four of his assistants for refusing a state mandate that all employees get vaccinated against COVID-19.
As reported by The Associated Press, WSU defensive coordinator Jake Dickert will be elevated to acting head coach for the Cougars' home game Saturday against Brigham Young.
"This is a tough day for Washington State football," WSU athletic director Pat Chun said at a news conference. "Nobody wants to be here."
Washington governor Jay Inslee had set a deadline of Monday for thousands of state employees, including Rolovich, to be vaccinated. Rolovich applied for a religious exemption, which was denied Monday, Chun said. Chun said there may be no precedent for a team losing its head coach and so many assistants in the middle of a season. He added that the school is looking to hire assistants immediately to fill the vacancies.
"Our student-athletes are the biggest losers in this," Chun said, as reported by the AP.
According to the AP, Rolovich needed to prove a sincerely held religious belief that prevented him from getting vaccinated in his exemption application. The application was put before a committee that reviewed the requests without knowing names of the applicants.
To continue coaching, Rolovich needed to receive the religious exemption and also to have Chun determine that Rolovich could do his job while keeping the public safe, the AP reported. In addition to his work as a coach, Rolovich oversaw a youth football program and participated in promotional and fundraising events.
According to the AP, the 42-year-old Rolovich was the highest-paid state employee with an annual salary of more than $3 million in a contract that runs through 2025. Because he was fired for cause, the university does not have to honor the remainder of the contract, although lawsuits over the decision are likely. The WSU athletic department is currently facing a shortfall of more than $30 million.
Rolovich had said he wouldn't get vaccinated but wouldn't specify his reasons. On Oct. 9, he confirmed he was seeking a religious exemption to the mandate but did not specified his religious beliefs. He was the only unvaccinated head coach in the Pac-12 and had worn a mask during games.
WSU President Kirk Schulz said nearly 90 percent of the university's employees and 97 percent of its students had been vaccinated. Fewer than 50 of some 10,000 employees have sought exemptions, Schulz said, adding, "There was a lot of frustration with such a prominent employee choosing to be unvaccinated."
Chun said he met with Rolovich over a period of several months, but could not change the coach's mind. "He was resolute in his stance," Chun said, as reported by the AP.
Hired two years ago, Rolovich posted a 1-3 record in the Pac 12 during the COVID-shortened 2020 season, and was 4-3 so far this season, including a win Saturday over Stanford. Unlike last season, when COVID-19 led to the canceling of games weekly, no games have needed to be rescheduled because of a COVID-19 outbreak in 2021.