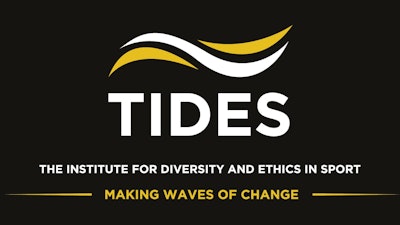 The Institute for Diversity and Ethics in Sport issued a report card Thursday indicating some improvement from a year ago regarding diversity hiring at Football Bowl Subdivision schools, but women and people of color remain underrepresented in leadership positions.
As reported by the Associated Press, the institute gave an overall grade of D-plus, up from a D in 2021. Racial hiring also saw its grade improve to a B-minus from a C last hear. Meanwhile, gender hiring remained an F, with the study finding women make up only 10 percent of athletic directors among the 130 schools in the FBS.
"You see over a 25-year period of time we've been forever without much movement, at these positions in particular," Richard Lapchick, the head of the institute, which is part of the DeVos Sport Business Management Graduate Program in the University of Central Florida's College of Business Administration, told the AP.
Racial disparity between leadership and those being led is particularly evident in the FBS coaching ranks. The study found less than 20 percent of coaches who weren't white, while Black, Hispanic or Latino athletes comprised more than 51 percent of all FBS football players.
"There is much room to grow in the head coaches' position to be as racially diverse as the population of DI FBS student-athletes," the report stated, as reported by the AB.
The study also examined positions that include university presidents or chancellors, athletics directors, faculty athletics representatives and conference commissioners, using data submitted by the NCAA. Lapchick said change toward a more diverse staff starts at the top, but the latest report found there were only 22 people of color holding positions of school president or chancellor, one fewer than a year earlier. Overall, white people held 324 of the 395 campus leadership positions reported in this study, which was the same from last year,
The NCAA tried to address diversity hiring by adopting a pledge in September 2016 to be more inclusive in its leadership searches, akin to the NFL's "Rooney Rule" about a diverse candidate pool. The report noted that 878 schools and 102 conferences at all NCAA levels signed the pledge.
But Lapchick said there are no sanctions or price to pay for institutions that don't follow the guidelines.
"Five years later, the results have not changed enough," Lapchick said.
Lapchick, who has been tracking hiring trends in sports for 25 years, is nevertheless optimistic, predicting that some of the activism and advancements seen in professional leagues will continue to trickle down to the collegiate level.
"The frustrations that I've felt over the years have been eased by my beliefs that people in the decision making roles in the league offices all have this as a priority," Lapchick told the AP, "and will do something about it."