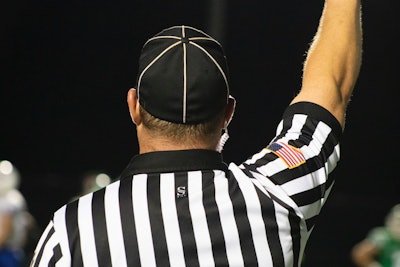 The Iowa High School Athletic Association's Lewie Curtis wants to restore the pool of high school officials across all sports close to the numbers reached about 12 years ago.
"Our goal is to reach back to about 5,000," Curtis, the IHSAA's director of officials, told The Gazette of Cedar Rapids . "The timeline I'm setting is for 2025, hopefully. I don't know if we can get to that point, but we can't get there if we don't try. That's what we're hoping for."
All sports have seen a steady decline of registered officials from that high-water mark. Football lost about 500 during that time period, but the last week included an infusion of 150 eligible officials, bumping the total numbers to 1,259 before Week 0 games kicked off Friday. The total is still down by about 90 from 2021, according to The Gazette.
"We're in the ballpark of where we were a year ago," Curtis said. "Still, that number is still a couple hundred down from where were pre-2019 or 2020."
Related Webinar: How Sportsmanship is Impacting the Shortage of Officials ​and What Are Some Possible Solutions?
Curtis saidhe hasn't seen a disruption in scheduling due to a lack of officials, adding any would have been at the freshman or junior high level. Cedar Rapids Kennedy athletics director Aaron Stecker said he has had football games covered, even though some of them may work with smaller than the customary five-person crew.
"We're covered for the first part of the season," Stecker said. "It doesn't look a whole lot different than normal from the standpoint of spots filled. There might be one official short here or one official short there, but those games are a month out.
"On our end, it looks like they are filled fairly normally."
Stecker said officiating is indicative of less involvement in general activities, including concessions workers and ticket-takers. Volunteers are tougher to recruit. People might not want to dedicate half of their week to a part-time endeavor.
"I think people are more and more protective of their time," Stecker told The Gazette. "To be an official, takes time. You have to be willing to be out of your home two to three evenings a week and go there straight from work."
Many reasons factor into the consistent overall decrease. Older officials have retired without bodies to replace them, while retaining younger officials for a long period of time has been difficult.
"Age is going to be a thing for a couple of years," Curtis said. "Everybody is getting older. We're always going to have attrition because of that.
"I think a lot of our focus is we're trying to provide better opportunities for newer officials to get some access to veteran officials, who can help them find success earlier in their career and stay in it beyond just dipping their toe in the water."
Some officials have accepted a larger workload. With freshman/sophomore or junior varsity games preceding varsity games, some officials are pulling double shifts. Curtis said it might be a whole crew or all but one that will work both contests.
"I've talked to some officials about their schedule," Curtis told The Gazette. "I visited with one official earlier this week about their schedule and that particular person said they have six out of their nine weeks are Friday night doubleheaders. That's a lot. I would say that is out of the ordinary, but not unheard of either."
IHSAA has made the process to becoming an official easier than ever by offering online registration, courses, clinics and tests. An official can begin work once fees are paid and exams are passed.
"If they've done that, as long as they've watched their rules meeting and passed the test, they have the ability to go out and officiate games in seventh through 12th grades," Curtis said. "If they were able to and wanted to do a varsity game, they could. Obviously, that presents some problems if I just signed up today."
Additional efforts are being made to help boost numbers. Previously, it was hard for new officials to break in with a crew or earn assignments. Curtis said he has worked with Des Moines Officials Association president Dave Rittman on a mentoring system, bringing established and new officials together. Consulting with other officials' associations will be important to determine universal best practices.
"Our office is trying to begin the process of developing a comprehensive plan for what that's going to look like, how are we going to identify and use those officials around the state who are successful and enjoying officiating as a hobby or vocation, so they're doing it for a long time," Curtis said. "Our hope is this will give us a little bit of a road map to follow so we can share this with other local associations and gather what they're doing in hopes to create a theme across the state."
Another option is collaborating with member schools and exposing high school students to officiating. The National Federation of High Schools has offered some packaged outlines or curriculum that can be delivered to schools. There is also online software that might be considered to encourage participation, according to The Gazette writer K.J. Pilcher, who adds that other states have considered those options.
"We're exploring education," Curtis said. "Our captive audience are high schools, so if we can get in to ways of getting kids interested in officiating while they're in high school. We know where they are at that moment and have access to them. Then, we're hoping that will get them interested in doing it and continuing to do it."