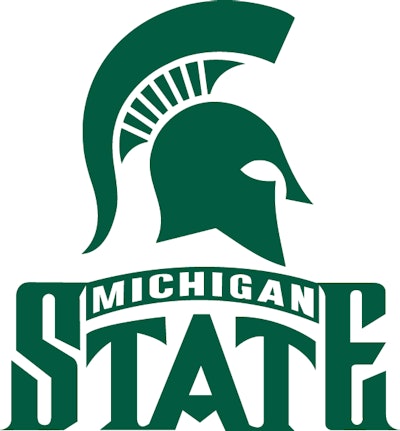 In a 73-page report issued Wednesday afternoon, a Michigan State University-commissioned hearing officer determined that former head football coach Mel Tucker sexually harassed and exploited Brenda Tracy, a prominent rape survivor and activist once hired to address the Spartans.
As reported by USA TODAY, the findings that Tucker was responsible for violating the school's sexual harassment policy represents a huge victory for Tracy and "a permanent stain on the reputation of one of the nation's highest-paid coaches."
The officer determined that Tucker masturbated and made sexual comments without Tracy's consent during an April 2022 phone call, eight months after he hired her as a sexual violence prevention educator. The officer also found that Tucker made unwanted sexual advances toward Tracy in the months before the call and engaged in quid pro quo sexual harassment after, when he subsequently ended their business relationship. Quid pro quo harassment involved conditioning employment benefits on her submission to his conduct.
Tucker's account to the investigator — that he and Tracy had been in a romantic relationship and had consensual "phone sex" — was deemed less plausible, less consistent and less supported by the evidence than Tracy's, according to the report, which Tracy shared with USA TODAY.
The case has spawned six previous headlines in AB Today.
According to Kenny Jacoby of USA TODAY, the report concludes: "In sum, considering all available evidence, the Resolution Officer finds, by a preponderance of the evidence, that there is sufficient evidence to conclude that Respondent subjected Claimant to unwelcome conduct based on sex when he FaceTime video called Claimant without a shirt on; when he attempted to meet up with Claimant alone following the Spring Game; and when he non-consensually masturbated and used graphic, sexual language on a phone call with Claimant."
"My first reaction was tears of relief," Tracy said Wednesday, 10 months after Tracy filed a complaint with the university's Title IX office. An outside attorney hired by Michigan State spent seven months investigating, and the school held a formal hearing in the case Oct. 5 via Zoom, which Tucker did not attend.
Michigan State suspended Tucker on Sept. 10, hours after Tracy went public with her allegations in a
USA TODAY
investigation, and fired him for cause two weeks later. Even accepting Tucker's defense as accurate would still constitute a fireable offense, athletic director Alan Haller wrote in the termination letter.
The hearing officer, Virginia-based Title IX attorney Amanda Norris Ames, wrote that Tucker's repeated contradictory statements to the investigator made his account difficult to believe. Tucker also did not present any documentation or witnesses supporting his claims that he and Tracy had been romantically involved, while several witnesses, text messages and emails supported Tracy's version of events, Ames found, according to Jacoby's reporting.
According to Jacoby, main points made by Ames included:
Tucker's false statements to the investigator that he had been either at home in Michigan or on a non-university-sponsored trip when the now-infamous phone call occurred. Records obtained by the investigator showed Tucker had, in fact, been in Florida, attending a charity golf tournament — a trip for which he submitted an expense report to the university.
Despite Tucker's claim of a consensual romantic affair, Tracy and Tucker did not communicate for three months after the April 2022 call, during which Tucker did not respond to Tracy's messages. Tucker's claim to the investigator that he was too "busy" to respond to Tracy was not credible, Ames found, given the frequency with which he had communicated with Tracy throughout the previous football season.
Tucker also gave conflicting reasons for canceling Tracy's third planned visit to campus, which had been scheduled for July 2022, three months after the phone call. Tucker blamed a scheduling conflict, telling the investigator he had yielded the time to his new mental conditioning coach, who needed to implement a new program on short notice. But records showed that the coach had already been meeting with the team for weeks and did not hold any meetings the week Tracy was supposed to be in town.
Ames found sufficient evidence to conclude that Tucker subjected Tracy to unwanted advances on two occasions before the masturbation incident: when he called her shirtless via FaceTime in November 2021, and when he repeatedly called Tracy asking her to meet him alone in a discreet location after the Spartans' April 2022 spring football game.
Tucker has 10 business days to file an appeal. He can argue that the outcome was unjust, that the school didn't follow its policies, or that the investigator or hearing officer is biased. He can also try to admit new evidence if it was unavailable to the hearing officer before the hearing and if it could have affected the outcome.
If the school denies the appeal, however, today's decision is final.
Tucker has indicated he plans to sue the school for wrongful termination and to recoup at least some of the roughly $80 million remaining on the 10-year, $95 million contract extension he signed in November 2021, Jacoby reported.