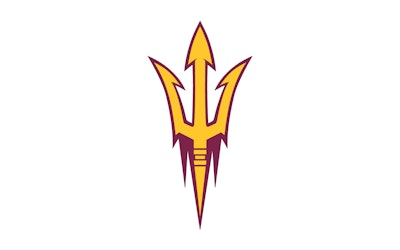 Arizona State's former athletic director Ray Anderson, who resigned this week, will continue to make the $950,000 AD's salary for the next three years, even though he'll be working in a reduced role as a professor.
Related: Controversial Reign of Arizona State AD Ends in Resignation
Anderson had been head of the ASU athletic department since 2014 but has been under fire since the hiring of Herm Edwards went terribly wrong, the Arizona Republic reported. The two have worked together for years, as Anderson served as Edwards' agent in his NFL-playing days.
The State Press, ASU's student newspaper, reported Wednesday that "Ray Anderson's contract will be modified, but his pay will remain the same at $950,000 every year until 2026, according to an ASU spokesperson."
The report said that "per the spokesperson, there will be no buyout to his athletic contract, and his pay will remain the same, unadjusted for the change in assignment."
Anderson will continue on at ASU in a teaching position as a professor of practice and senior adviser for the sports law and business program at the Sandra Day O'Connor College of Law.
Anderson has taught one class each spring at ASU's Sandra Day O'Connor College of Law, according to ASU's online faculty catalog, as reported by KPNX-TV Thursday. It's a two hour and 55 minute course on Tuesdays titled "Negotiations & Alternative Dispute Resolutions in the Sports Industry."
According to the course catalog for Spring 2024, Anderson is only listed as teaching that one course.
The Arizona Republic reported that Anderson had been one of the highest-paid athletic directors in the country. While his base salary of $950,000 wasn't necessarily at the top, he had bonuses tied in for achievements such as academic progress rates of each team, which considerably enhanced that salary and put him in elite territory.
"Any raises or boosts to his salary remain unclear as part of his unchanged pay," the State Press report said.
Anderson resigned as ASU's athletic director on Monday. He had held the position since 2014 and had three years left on his contract.
"It has been a privilege to serve as ASU's athletic director for nearly a decade," Anderson said, in a prepared statement announcing his resignation earlier this week.
Jim Rund, ASU Senior Vice President for Educational Outreach and Student Services, will serve as interim athletic director.