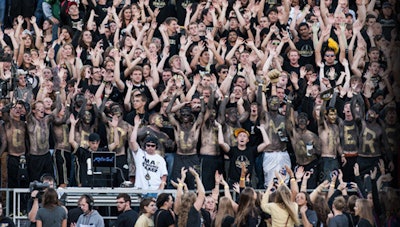 It's practically an epidemic for colleges and universities around the country: How can we get students to attend football games?
Whether it's losing teams like Purdue (1-11 last year) or traditional powers like Alabama (60-7 since 2009) schools everywhere are ramping up efforts to lure students away from the tailgates and pre-game parties and draw them into the stadium.
Purdue is trying out a bold new strategy this week: free tickets. Any Purdue student can attend Saturday's season opener against Western Michigan for free, no strings attached.
All @LifeAtPurdue students get in FREE to the @BoilerFootball game this Saturday! #BoilerUp pic.twitter.com/7qHR8Cw4ia

— Purdue Athletics (@PurdueSports) August 27, 2014
Students can claim their free tickets online, on campus or at the Purdue ticket office. For students who already purchased football tickets, there's an offer for them as well. They are eligible for a free ticket to two other games. To get those tickets, students simply have to pick the two games they would like to attend by September 3.
Purdue and Western Michigan had a combined record of 2-22 in 2013.
The free ticket giveaway is the school's latest effort to connect with its students. Earlier this summer Purdue announced students who purchased its "VIP card" were eligible to have their picture featured on the team's helmet for its September game against Iowa.

And speaking of Iowa, it too made headlines this month in an effort to attract students. However, its free tuition raffle ended up backfiring.

Big Ten schools are not the only ones struggling, however. On Tuesday, The Wall Street Journal published a story titled, "At College Football Games, Student Sections Likely to Have Empty Seats." According to their research, average student attendance at college football games is down 7.1% since 2009. That decline is 5.6% at schools in "Power Five" conferences.

"There are so many other things they can do that maybe going to the game that day isn't the most important thing on their agenda," Louisiana State University athletic director Joe Alleva says in the WSJ article.

When AB examined this issue last summer, Paul Steinbach discovered schools coast-to-coast were trying new strategies to attract students, or in some cases, cutting back its student ticket allotment altogether.

Michigan State upgraded its stadium, including adding Wi-Fi capabilities to please younger, device-dependent fans. The University of Georgia, so dismayed by the empty seats in its student section, took 2,000 seats away from current students and instead offered them to recent graduates at a higher price. Maryland streamlined its ticket allocation and stadium access processes in an effort to improve the fan experience.

Despite the doom and gloom statistics, optimism still exists. College football is more popular than ever and bringing in more revenue than ever, although most of that can be attributed to lucrative TV contracts.

"Nothing can unify a community and alumni base of a university like college football can," Texas Tech athletic director Kirby Hocutt told The Wall Street Journal.

And when all other promotions and giveaways fail, you can always have your coach guilt fans into coming to games, like Alabama's Nick Saban did last year.

"I always say the fans are part of the team," Saban said on his radio show last fall following a game where Crimson Tide faithful piled out of the stadium early as Bama rolled Arkansas 52-0. "Everybody else should have the same sort of commitment. You don't have to do the work all week, you don't have to practice, you don't have to come in at seven in the morning and leave at 11 at night, you don't have to do any of that stuff. All you have to do is come to the game, drink beer, do whatever you want, party in the parking lot. I've never been at a tailgate in my life. All I'm asking is that you just come and have fun and stay for the whole game."

So as college football kicks off tonight with a packed slate of games, we'll have our eyes in the crowd. Maybe this is the year improved efforts pay off in an attempt to lure students back into the stadium.
Links in this story: