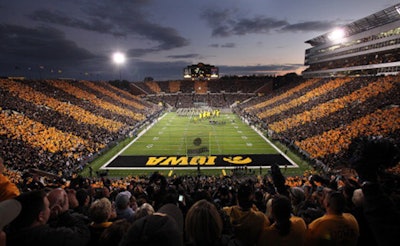 Attracting students to college football games is a challenge for schools across the country. As AB reported last year, even the Alabamas of the world are having a tough time drawing students away from the tailgating scene and into the stadium. Last week, the University of Iowa launched a promotion to solve this problem.
With the season approaching and more than 3,000 student ticket packages still unsold, Iowa's athletic department introduced a raffle program to spur student ticket sales. According to the Daily Iowan, the promotion offered students who purchased football tickets entry into a raffle for free tuition. The promo has since been suspended due to a litany of legal problems.
As the Daily Iowan reports:
In the state of Iowa it is illegal to gamble on credit, which was one of the problems that the program faced because payments could be made online rather than just in person with cash.
Another concern was the varying prices for tickets. Tickets for certain packages were more expensive than others and prices varied if the student chose to belong to the Students Today Alumni Tomorrow Organization.
Tickets for this year's seven home games were $175, or $163 for students who belong to the Students Today Alumni Tomorrow organization. Tickets for six home games, which excludes the Iowa-Nebraska game, cost $150, $140 for Students Today members.
In addition, officials did not specify whether participants would be required to claim their prize in person. Per Iowa law it is illegal to require participants be present to win prizes.
Iowa's raffle program has been suspended and the school is exploring the possibility of a sweepstakes option rather than a raffle. Students who bought tickets hoping to win the prize between Monday, when the raffle was announced, and Wednesday, when it was suspended, are eligible for a full refund.
According to the Daily Iowan, the Iowa Athletic Department reserves 10,000 seats for students and typically sells all of them. However, coming off a disappointing 4-8 season in 2012, only 7,300 student tickets were sold for the 2013 season which saw the Hawkeyes go 8-4. Iowa opens its 2014 campaign August 30th at home against Northern Iowa.
RELATED: Schools Strategize to Increase Student Football Attendance