As the cost of attending college continues to rise, the price of college sports for many schools is rising at a much higher rate.
Institutions in the state of Ohio highlight this growing trend with athletic spending at the state's six Mid-American Conference schools up 24 percent in five years. This number is almost double the increase in the cost of tuition, books, room and board at the same schools.
Since ticket sales, TV revenue and donations don't generate nearly enough money to support athletic teams at these MAC schools, the majority of the money for sports comes from mandatory student fees or other non-athletic university resources. With the exception of Ohio State, the 10 other Division I public universities in Ohio receive approximately $820 a year per student on campus to support their athletic departments.
The Northeast Ohio Media Group analyzed the last five years of financial reports filed with the NCAA to identify these trends.
FROM AB: Economy Affects Fundraising for College Athletic Facilities
NEOMG looked at the athletic spending of six MAC schools, plus Cleveland State, Youngstown State, Wright State and Cincinnati. These schools combined to spend $164.2 million in student fees and other university support on sports in 2013-14.
That accounted for 64 percent of the $254.7 million these schools spent on sports. Just five years prior, these sources of money covered 62 percent of $205.6 million bill.
These numbers show athletic departments paid for their spending increase, about 24 percent, with a larger increase — 28 percent — in money from students and other university resources.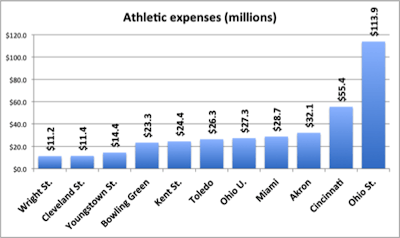 The only schools that have decreased the amount they take from student fees are those in the highest profile conferences such as the Big Ten, reports the Knight Commission on Intercollegiate Athletics, which has long been suggesting that schools need to slow their spending.
Some states are taking action to curb the spending of student fees on sports at public universities. In Virginia, the governor signed a bill in March that caps student and public subsidies to sports at 20 percent for major conferences, 55 percent for mid-majors and 70 percent for schools that compete at what was previously known as the Division I-AA level.
While there is no state-wide law in Ohio, some schools have taken steps to decrease athletic department bills. In early July, Akron eliminated its baseball team and it March, Cleveland State announced the elimination of its wrestling program. However, this decision was reversed after supporters complained and students voted to approve a $90 increase in fees a year.
Other fees that draw attention in college sports are the salaries of coaches. For example, at the six Ohio MAC schools, pay and benefits for men's basketball coaches averaged $502,000 a year in 2013-14, and football coaches received an average of $560,000.
While these numbers may seem exorbitant for schools that are struggling to find funds for sports, many athletic directors see the high salaries as necessary to remain competitive.
"In order to compete, you're going to have to pay what the market is requiring," said Ohio University athletic director Jim Schaus. "Salaries for coaches have increased just like other areas have increased. We want to be competitive and fair to individuals."
FROM AB: Contract Bonuses Award College Coaches for All Sorts of Achievements
However, there have been complaints from many about the high salaries of coaches. Professors at these schools see the cost of sports as a huge problem and believe the money taken from student fees could be better spent.
John McNay is the president of the Ohio Conference of the American Association of University Professors, as well as a professor at the University of Cincinnati. He disputes the claim that sports lead to a higher overall enrollment, saying, "There is no hard information on that."
He thinks student fees would be better spent on academics and suggested schools hire more full-time faculty to replace low-cost part-time instructors who often teach entry-level classes.
"I'm not against athletics," McNay said. "I'm against spending so much money on it."
He also suggested making student fees for athletics optional.
While many athletic department officials agree that something needs to be done to rein in the cost of college athletics, they won't deny the importance of sports at their schools.
Nathan J. Mortimer, interim athletic director at Akron, said "The reality I believe is that athletics is the door step, the porchway into the institution."
Additionally, Kent State athletic director Joel Nielsen acknowledges that both current students and alumni, as well as the community, see sports as something to be proud of at their schools.
"We definitely know there are points of pride from the students to alumni, to our community and donors."