In August, two soldiers made history by becoming the first women to graduate from the Army's Ranger School. The soldiers, 1st Lt. Shaye Haver and Capt. Kristen Griest, graduated along with 94 men after 19 women and 381 men total attended the first Ranger School course in April. A third woman was still attempting to complete the 62-day course in late September. Editors note: Maj. Lisa Jaster, successfully completed the Army Ranger School and graduated in October after this article was originally published.
From the onset, critics have said the Army's decision to implement a one-time, integrated assessment this year at Ranger School, in response to a 2013 directive from former Defense Secretary Leon Panetta to open combat roles to women before 2016, was a political maneuver, and they claim concessions were made to give the female soldiers a better chance of graduating. A spokesperson at Fort Benning, home of the Airborne and Ranger Training Brigade overseeing Ranger School, said training standards for Ranger School are gender-neutral.
At the time of graduation, Maj. Gen. Scott Miller, commanding general of the Maneuver Center of Excellence at Fort Benning, reiterated that standards for completing Ranger School are the same for men and women. Miller said he received no pressure from senior Army leaders to change the standards, and he even warned them about the possibility that no women would graduate, according to the Army Times.
Griest, for one, does not want the standards to change. "No woman that I know wanted to go to Ranger School if they changed the standards," Griest said at an August press conference. "Maintaining the standards is absolutely imperative. We're leaders in the Army. We're expected to do what we ask of our soldiers and then some. We're supposed to be leading from the front."
A closer look at the standards and the requirements soldiers must go through shows just how grueling the Ranger School exercises are for both men and women.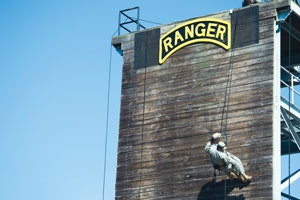 RUGGED REQUIREMENTS
Ranger School is divided into three phases: the Fort Benning phase (20 days), the mountain phase (20 days) and the Florida phase (16 days). The first part of the Benning phase is the Ranger Assessment Phase in which soldiers must meet the minimum requirements in the following categories: 49 push-ups in 2 minutes; 59 sit-ups in 2 minutes; six pull-ups; a 2-mile run in 15 minutes, 12 seconds; a 5-mile run in 40 minutes; a 16-mile hike with a 65-pound pack in 5 hours, 20 minutes; and a pass/fail 15-meter swim with gear. To be competitive, soldiers are recommended to increase their scores to the following: 80 push-ups in 2 minutes; 80 sit-ups in 2 minutes; 12 pull-ups; a 2-mile run in under 13 minutes; a 5-mile run in 35 minutes; a 16-mile hike with a 65-pound pack in four to five hours; and a pass/fail 15-meter swim with gear.
Stew Smith, a former Navy SEAL who is a fitness author and certified strength and conditioning specialist by the National Strength and Conditioning Association, wrote tips on how to prepare for Ranger School on Military.com.
"The most important pre-training exercise to do prior to Ranger School is walking fast in your boots with 50 pounds of weight on your back," according to Smith. "You will do this every day you are at Ranger School. Running at least five miles, three to four times a week, and swimming in uniform two to three times a week is recommended as well. Pack on five to 10 pounds of body weight prior to going so you have a little to lose when you are consuming fewer calories a day."
Ranger School recommends a physical training program that soldiers can take for 30, 60 or 90 days. Training for all three periods includes a variety of strength and timed running exercises, followed by recovery days on Saturdays and rest on Sundays. On recovery days in the 60- and 90-day programs, soldiers are encouraged to utilize any low-impact movement for 30 to 60 minutes at a low heart rate by cycling, hiking, rowing, swimming or using an elliptical or stair-stepper.
---
RELATED: Physical Fitness Tests for Females Under Military Microscope
---
The second part of the Benning phase consists of a combat water survival test, a mile-run event, 5-mile runs, terrain runs with an obstacle course, a 12-mile foot march, and night and day land navigation tests. The mountain phase in rugged terrain can cause emotional stress due to hunger and sleep deprivation, according to Smith. The Florida phase teaches small boat operations and other skills needed to survive in a jungle and swamp environment.
Forty-five percent of all students who start Ranger School fail to graduate. Over half of those are dropped because they failed an event during the Ranger Assessment Phase. "Ranger School is a grueling school due to the long hours of walking with your gear, sleeping in the field and eating one or two meals less a day than normal," Smith writes. "Many students lose 20 to 30 pounds in the school."
According to the Army Times, Haver and Griest started the Florida phase on Aug. 1 after three tries at the Benning phase and one try at the mountain phase. "We came to Ranger School skeptical," Haver said at the press conference, which included Griest and six of their male classmates. "But we didn't come with a chip on our shoulder, like we had anything to prove. It's awesome to be part of the history of Ranger School in general, and graduating with these guys next to me, and the 90-plus other Ranger students will probably be the highlight of my life."

UPHOLDING THE STANDARDS
Maj. Jim Hathaway, the No. 2 official in the Airborne and Ranger Training Brigade, took to Facebook in August to respond to critics who alleged Haver and Griest received special treatment at Ranger School. Hathaway's post did not quell the critics, however. In September, Oklahoma Rep. Steve Russell reportedly asked the Secretary of the Army for paperwork documenting the performance of Haver and Griest at Ranger School. A spokesperson for Russell, a retired Army lieutenant colonel, said the congressman wanted to make sure that all of the soldiers who passed the course "deserved to pass it," the Columbus, Ga., Ledger-Enquirer reported. Russell's request preceded a story in People magazine questioning Haver's and Griest's achievement. Maj. Gen. Malcolm Frost, the Army's chief of public affairs, wrote on Facebook that the claims made in the magazine article were "pure fiction."
The allegations fuel an ongoing debate about whether female soldiers should be held to different standards than their male counterparts, and whether women can ever be considered fit for front-line combat. In April, The Washington Post published an opinion piece written by two military officers and an Army physical therapist stating the need to re-evaluate the standards for men and women in the military. The article was published a week after the Marine Corps announced the end of an 18-month experiment to vet women through its Infantry Officer Course. None of the 29 women made it past the three-month course.
"The debate should include facts, like medical findings that show higher rates of injuries among military women than military men," the authors wrote. "Females generally lack similar upper body strength and are more likely to experience stress fractures, ACL tears and other overuse injuries."
Because men conceal their injuries more often than women, the authors wrote, the gender gap in injury rates "was no longer statistically significant." Trainee injury rates are nearly 50 percent for both sexes, they wrote. "We propose that this is not an issue about women, but one of standards," the authors concluded. "Available medical research and the experiences of other countries cannot explain why American women are so woefully under-qualified for service in combat specialties. Nor can critics explain why women are found at construction sites, on police forces, or in any occupation where a bigger, stronger man can better perform the physical aspect of the job. Re-evaluate the standard, publish the standard, and hold the standard. For everyone."
Prior to a Sept. 30 deadline in which the heads of the Armed Forces prepared to make their recommendation to the Secretary of Defense about opening all combat positions to women, the Army held a conference at Fort Benning to address combat readiness. Sue Fulton, chair of the U.S. Military Academy Board of Visitors, which reports to President Barack Obama, said at the conference that with the right training, women can perform in the most physically punishing infantry jobs. "I expect that the service secretaries will look at the available data and conclude that there is no reason to exclude qualified women from any military job," Fulton said in the Ledger-Enquirer.
In September, the Army announced that Ranger School is now open to all qualified soldiers, regardless of gender. Around the same time, the Navy announced it will open its elite SEAL teams to women who can pass SEAL training, with an official decision expected before the end of the year. When women eventually go through SEAL training or go through Ranger School next year, they will have Haver and Griest to thank for pushing through and never giving up. "I think I would be crazy to say I didn't" consider quitting, Haver said. "There's definitely a point you hit along the way, but the ability to look around to my peers and see they were sucking just as bad as I was kept me going. I think it takes a whole lot more willpower and mental capacity to pass than physical capacity. My advice is to keep going and to realize that your mind can take a whole lot more than your body can."
---
This article originally appeared in the November | December 2015 issue of Athletic Business with the title "Breaking Barriers"