Online ticketing that provides tighter control at the gate may be a way to quell violence in the stands.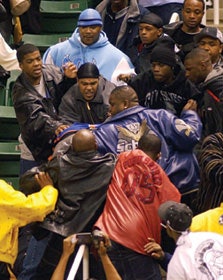 A spate of violent fan behavior at prep basketball games led to gymnasium-admission restrictions in at least three major cities last year.
Officials at Milwaukee Public Schools limited ticket sales for all games to one per student and allowed only students from the two competing schools to attend games after eight students from Bay View High School and host Bradley Tech were arrested during a January 2007 post-game brawl that injured four police officers. Three other individuals arrested were not enrolled at any MPS school. In a controversial decision, students from Bayview and Bradley Tech also were banned from attending their teams' subsequent games (see "Mayoral Challenge," April 2007, p. 15).
Tulsa (Okla.) Public Schools administrators decided not to go that far after fights among fans disrupted or cancelled two games during the 2006-07 season. But select future games were sold only with advanced-purchase tickets, moved to neutral sites and scheduled for afternoon tip-offs. "Selling tickets in advance helps us have fans there who really want to watch the basketball game and keeps away the troublemakers," TPS athletic director Stephanie Spring told the Tulsa World at the time.
And Mel Collins, principal of Lincoln High School in San Diego, eliminated all walk-up ticket sales after multiple fights in the stands abruptly ended a game between Lincoln and Mount Miguel High School at halftime.
"All schools are concerned about security," says Jay Hammes, athletic and activities director at Horlick High School in Racine, Wis. "A lot of the problems today with fights and weapons involve young participants who don't attend any school. Unless a name is on the ticket and you have an ID system in place at the gate, there's not an effective way to curb unwanted people from coming in."
That is why Hammes spent the past six years studying security issues while developing an online ticketing and fan identification program designed to make high school athletic events around the country safer by monitoring and controlling who attends them. Expected to debut in time for this year's winter sports season, the program will allow schools to sell tickets via the Safe Sport Zone web site (www.safesportzone.com). A surcharge of 75 cents - so the program can remain free to schools - will be assessed to every fan purchasing an online ticket. Each ticket will be printed with the ticket-holder's name on it, and an identification card for students or a driver's license for adults will be required at the gate or gymnasium doors to gain entry to the game. There's even a feature of the program that can flag specific individuals and bar them from purchasing tickets.
"There' s no assurance of 100 percent safety, but this is one tool to make an event safer," Hammes says. "Should something drastic happen, the school would have the names of all those present. We believe that those who might create a problem would hesitate buying a ticket because they would not be anonymous."
While initially conceived as a security tool, Hammes' online ticketing program may also prove beneficial for schools whose administrators are looking for more convenience and accountability in their ticket-selling procedures. In smaller schools, where the threat of violence might be lower, online ticketing would still help eliminate the exchange of cash, which could potentially get lost or stolen.
Hammes says he has commitments from high schools in Illinois, Michigan and Wisconsin to give the online ticketing system a try, and he has been in contact with school districts in New Mexico, New York and Ohio. All told, approximately 300 schools have expressed an interest in the program, he says, adding that he plans to spend much of the next year traveling the country to promote the concept.
"If I'm an athletics administrator, I like the idea of having people show up at the door already having their tickets - especially if I have a strong community that follows the high school teams and I sell tickets in large numbers," says Mike Blackburn, associate executive director of the National Interscholastic Athletic Administrators Association, which along with the National Federation of State High School Associations has endorsed the program.
Dave Wagner, coordinator of investigations for the bureau of safety and security at Chicago Public Schools, isn't sure how many of that city's approximately 72 high schools with sports teams will have a need for an online ticketing service, despite reports of fan violence. "We have such a disparity in attendance at games," he says. "Some schools will have 5,000 people at a basketball game, and they would benefit from a service like this. But if you have 20 people show up, why do you need it?"
Hammes suggests that schools may want to provide a combination of online and traditional ticket sales, or offer online ticketing only for certain sports - such as basketball and football, which are the ones that typically attract the largest and most vocal crowds. "If you sell 30 tickets to a game that way, that's okay," he says. "If schools just get people accustomed to the idea, they can really tighten up that gate if some security issue occurs down the road and they need to go to online-only sales."
The challenge for schools that sign up to use online ticketing will be getting people (older parents and grandparents, most likely) to buy into the program. Habits are hard to break, and more than 25 percent of the U.S. population still doesn't use the Internet, according to The Nielsen Company.
To accommodate fans without Internet access - as well as students without credit or debit cards - schools with online-only ticketing programs may choose to sell tickets in the administration or athletic office during school hours, inviting them to stop by and pay for a ticket, which will be purchased and printed using a school computer.
Hammes and Blackburn both say that online ticketing for high school events is inevitable. Other companies are experimenting with the idea, which is already common in professional and college sports, and purchasing advance tickets on the Internet has become part of today's concert- and movie-going experiences. "The younger generation thinks nothing of purchasing almost everything online," Blackburn says. "I don't know if this program is instantly going to be the answer to convenience and safety issues, but I see great promise for it."