As a University of Oregon senior majoring in sociology, Katelynn Johnson probably knew something about mob mentality even before she was rendered unconscious by a full water bottle anonymously launched from within the masses at the University of Arizona's football stadium last month.
The bottle hit Johnson, an Oregon cheerleader, in the head after the Ducks defeated the Wildcats in double overtime. The perpetrator, one of countless individuals who threw things toward the field, remains unidentified, but an investigation is ongoing, according to University of Arizona police spokesperson Sgt. Juan Alvarez. When asked if video surveillance equipment is in place at Arizona Stadium, Alvarez informed me via e-mail, "We have many security measures in place. I will not comment on the specifics of those measures."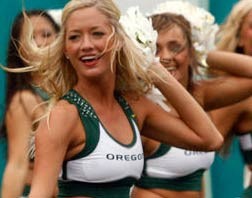 Elsewhere, attempts to keep crowds in line have included issuing 2001, a water bottle struck the head of Renee Boozer, mother of Duke guard Carlos Boozer, during a basketball game at the University of Maryland. Boozer claimed she suffered a concussion and threatened a lawsuit.
"How about banning bottles?" wrote one commenter to a blog post about the Johnson incident. "I can't imagine a plastic cup would have given her a concussion." Maybe so, but putting beverages in cups in the hands of rowdy fans won't necessarily spare the home team a public-relations black eye, as was witnessed last year at the University of Illinois.
Based on Johnson's own description of her ordeal, a crackdown on carry-ins can't hurt, either. "Imagine items you take to a game in your hand, like everything from soda, popcorn, water bottles, alcohol bottles, trash, etc., and seeing it all heading your way," Johnson, who was subsequently named Sports Illustrated's Cheerleader of the Week, told the magazine. "Everyone was on the sideline celebrating and it was such a great rush, but as we started to see items flying at us, the celebrating turned into a panic/fear."
As psychology professor Daniel Wann, co-author of Sport Fans: The Psychology and Social Impact of Spectators, told AB at the time of his book's 2001 release, controlling violent behavior goes beyond merely disarming fans to altering the normative culture at games: "If you can get it in your subculture that 'We as a fan base show our support, we don't show our displeasure,' you're going to cut down on the number of violent incidents."