Navy freshman football player Will McKamey died while in a coma Tuesday night, three days after he collapsed during a Midshipmen football practice. He was 19.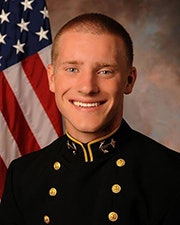 "During this most difficult of times, first and foremost, our prayers and thoughts turn to Randy, Kara and their beautiful family," said Ken Niumatalolo, Navy's head football coach.  "Our deepest and most sincere condolences go out to their entire family and friends.

According to Annapolis newspaper, The Capital, McKamey, was going through light drills during spring practice on Saturday morning when he came to the sideline and complained to a team athletic trainer that his head hurt. He took his helmet off and collapsed shortly after. He was immediately attended to by medical personnel and eventually airlifted to the  R. Adams Cowley Shock Trauma Center in Baltimore.

He underwent cranial surgery later that afternoon to reduce swelling and bleeding in his brain.

According to a statement released by McKamey's family, they are unsure what caused his collapse. The statement says McKamey did not sustain "a bad hit or unusual or extreme contact" in that practice.

"The Navy coaches have poured through the films of practice and seen nothing more than Will carrying the football normally, doing what he truly loves." the family said.

The 5-foot-9, 170-pound McKamey did not play in a game last season. He was an oceanography major in 3rd Company at the Naval Academy.

"As our Navy football family mourns the loss of one of our brothers, we also celebrate and honor his life," Niumatalolo said. "He loved his family, his friends and his teammates. The Brotherhood loves you! Keep the ball `high and tight' in Heaven."