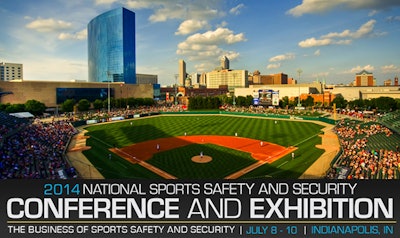 The National Center for Spectator Sports Safety and Security will hold its fifth annual conference in Indianapolis, July 8-10. This year's theme of "The Business of Sports Safety and Security" fits perfectly with the evolving landscape of athletic security, according to NCS4 director Lou Marciani: "The security function's role is now more than ever a business one, as security has become a core function of finance, law, marketing and operations."
Here's a preview of some of this year's highlights:
Boston Police Commissioner William Evans will provide this year's keynote on "How the Boston Bombing Changed the Game of Sports Security." Last year, Evans spoke to a packed ballroom in Orlando on how the Boston Police Department apprehended the assailants behind the 2013 Boston Marathon bombings. This year, he will share his past experiences and offer recommendations for the future. William Hewitt from the U.S. Department of Homeland Security will also discuss the security implications and commercial potential of drones.
Two pre-conference activities will be held July 7, including a National Forum on the "Threat of Terrorism at Sporting Events: A Discussion of Terrorism's Changing Face and Broad Impact." Moderated by the FBI's James Ammons, the forum will provide opportunities for attendees to increase their terrorism knowledge and awareness, as well as examine the unique security challenges posed by sporting events. The second event will be an intercollegiate athletics symposium, which will deliver a "Best Practices Guide" to help colleges and universities, athletic conferences, bowls and the NCAA develop and implement event security and safety plans at their sports facilities.
Attendees will also have the opportunity to tour a variety of local athletic venues, including Lucas Oil Stadium, Bankers Life Fieldhouse, Hinkle Fieldhouse, Carmel High School, Indianapolis Motor Speedway and Victory Field.
For more information, go to www.ncs4.com.
RELATED: Talking Safety at NCS4