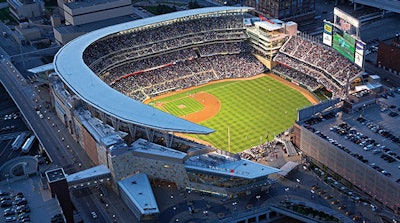 By almost all accounts, last night's MLB All-Star Game at Target Field in Minneapolis was a success. The weather cooperated, the game was entertaining and Derek Jeter had his opportunity to shine in his farewell All-Star Game.
Unknown by those watching on TV however, there was a brief security breach early in the game. A protester gained access to the stadium by jumping from a nearby parking ramp and scaling a ladder before unfurling a banner that read "Love Water Not Oil" over the video board in right field.
Update: Activist jumps from parking ramp, hangs protest sign over screen at #AllStarGame http://t.co/3dWS5FuEfE #ASG pic.twitter.com/v7Hw4ofJoZ

— Star Tribune (@StarTribune) July 16, 2014

Matt Hoy, the Twins' senior vice president of operations told the Minneapolis Star Tribune that the banner was hung by someone who climbed to the top of Minneapolis' B parking ramp and jumped to a horizontal ladder to reach the stadium.

As you can see in the picture at the top of this page, the parking ramp is situated directly behind a bank of seats in right center field. Above the seats sit the video board and sponsor signs. There is a seven-foot gap between the parking structure and the stadium.

As a Minnesotan who has parked in that ramp, I can confirm the structures are close, but jumping from one to the other would be a difficult — and risky — task.

Hoy said if the protester had fallen, he or she would have dropped all the way to the street below. "Some fool took their life into their hands to put a banner out there," he told the Star Tribune.

Witnesses on the plaza below said the activist hung the banner before leaping back to the parking ramp. By the ninth inning the person had not been arrested, however, police were looking for him or her.

The banner hung for about 10 or 12 minutes before it was removed by stadium employees who are experienced working on the structure. Wearing full safety harnesses, they climbed a 50-foot ladder to remove it.