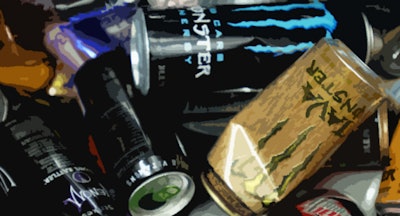 A new study has revealed good news and bad news for athletes who enjoy energy drinks.
On the bright side, the study conducted by Camilo Jose Cela University (CJCU) in Madrid, revealed that the athletes they studied who downed energy drinks before athletic competition saw their performance improve. The bad news is that the slight bump in performance came with a nasty list of side effects including insomnia, nervousness and an increased stimulation level following competition.
According to Medical News Today, more than 50 percent of athletes consume energy drinks during training or even before competition.
As MNT reports:
In the study, top footballers, climbers, swimmers and basketball, rugby, volleyball, tennis and hockey players took the equivalent of three cans of energy drink or an energy drink placebo before a sports competition.

Sporting performance was measured with the use of GPS devices which determined the distance and the speed at which it was covered in team sports. They also used dynamometers and potentiometers to measure muscle performance in other sports. Published in the 'British Journal of Nutrition', the results show that athletes increased their sporting performance by between 3% and 7%.
"What is more," as Juan Del Coso Garrigós, one of the authors of the study who is also in charge of the Exercise Physiology Laboratory at the UCJC, explains to SINC, "they ran further in team competitions, specially at higher intensities, which is related to sports performance."
As MNT points out, energy drinks mainly contain carbohydrates, caffeine, taurine and B vitamins. Contrary to their name, "energy" drinks don't provide more energy than a typical caffeinated soft drink. "In fact, none of the other ingredients present in energy drinks and in the amounts in a can of energy drink actually produces a significant effect on physical or cognitive performance," the article says.
We have our own questions about this study. First of all, 50 percent of athletes consuming energy drinks before training seems a bit high. There was no clarification of who qualified as an "athlete." Secondly, and perhaps most important, consuming three energy drinks before an athletic competition (like those in the study) is at best a recipe for a massive stomach ache and at worst, a death wish.
As Athletic Business wrote more than four years ago in this feature story, athletic administrators have become well-versed in the dangers of energy drinks.
"When you're putting a stimulant into your body that is specifically designed to increase cardiac output during a time when you're increasing cardiac output simply by participating, it ends up being a pretty nasty mix," Jon Almquist, an administrator of Fairfax County (Va.) Public Schools' athletic training program, told AB.
The NFHS states that high doses of caffeine might produce lightheadedness, tremors and difficulty with fine-motor-control skills. It also acts as a diuretic, resulting in greater fluid loss.
Some high schools have banned energy drinks altogether.
"It involves student-athlete safety," Tom Dolan, the assistant director at the Virginia High School League, told us in that 2010 story.
So despite CJCU's findings on improved performance, student-athletes will want to think twice before downing that energy drink before their next game.
RELATED: National Action Plan Unveiled to Protect Student-Athletes