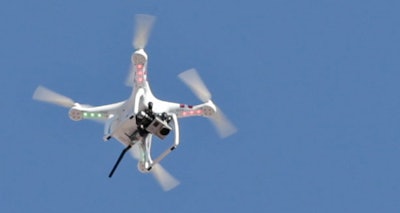 If you've recently attended a major sporting event and seen something moving in the sky, it may have been a bird or a plane.
But it also may have been a drone.
According to the Federal Aviation Association (FAA), a drone is an unmanned aircraft. Used for taking photos and videos, drones have skyrocketed in popularity recently, thanks to their ability to get footage from heights and angles at a relatively inexpensive cost. A quick online search turns up results for drones ranging in price from $500-$2,500.

For example, here's footage taken by a drone flying over Baylor University's McLane Stadium in September:
While the footage can be stunning, universities and sports teams around the world are struggling with how to manage amateur drone videographers. Having unauthorized flying objects circling a stadium full of thousands of people is a serious security consideration.

Tuesday provided a scary example of the dangers of drones. A European Championship qualifying soccer match between Serbia and Albania was halted because of a drone.
Even disregarding soccer, tensions run high between Serbia and Albania, largely due to the nation of Kosovo, a former Serbian province that's mostly comprised of Albanians, that became independent in 2008. Kosovo's independence is recognized by a number of countries, but not Serbia. Four players in Albania's starting lineup were born in Kosovo.
So when a drone carrying a flag that depicted the figures of Ismail Qemali (who is considered to be the founder of the modern Albanian state) and Isa Boljetini (an Albanian who revolted against the Serbs and Ottoman's in the early 20th century) flew above the soccer pitch in Belgrade, tempers escalated.
In response, a number of flares were thrown from the stands, and fans made their way onto the field as the players made their way off of it.
"The flag bore a controversial map referring to the area referred to as Greater #Albania" http://t.co/pa0Zj78am9 pic.twitter.com/WJMCF2g6Gy

— Newsweek Europe (@NewsweekEurope) October 15, 2014
The game was abandoned 41 minutes in and not restarted.
"It is a regretful situation on which we will report. The circumstances were such that we couldn't continue the match," UEFA's match delegate, Harry Been told reporters.
A little closer to home (within miles of AB's headquarters to be exact), drones are affecting the college football season as well.
Just this past Saturday during a game between the University of Wisconsin and the University of Illinois, an unauthorized drone with a GoPro Camera attached to it was seen flying over UW-Madison's Camp Randall Stadium.
The unmanned aircraft's pilot had not been identified as of Monday night, but the campus' police are working with the FAA to find the culprit. The drone went largely unnoticed as it hovered over the stadium during the second half, but it was brought to the attention of the UW-Madison Police Department after the game. The only evidence of it was captured by Wisconsin State Journal photographer Michael P. King who snapped the photo you see at the top of the page.

In a search of game day policies at universities around the country, we found very few have official rules regarding drones. Florida State is one such school. A new addition to the school's Game Day Plan explicitly states that drones, "not authorized by law enforcement are strictly prohibited inside the stadium or within 1000 feet of the stadium. Unauthorized drones are to be reported immediately to the command post, who will in turn, notify game operations. All airspace violations will be subsequently reported to the FAA, and a case number generated for a report and investigation."
And as other drone sightings pop up throughout the season, more schools are likely to follow suit.
Earlier this fall, UW-Madison graduate David Parfitt flew a drone around Camp Randall Stadium with permission, when it was empty.
"I don't think you should be flying over crowded areas, especially without the permission of the university," he told the Wisconsin State Journal.

And neither does the FAA. According to their regulations, "airspace above the stadium is a no-fly zone from an hour before kickoff until an hour after the final whistle. The federal provision, put in place after the Sept. 11, 2001, terrorist attacks, extends 3 miles around and 4,000 feet above the stadium."
The FAA has started to take a hard stance against drones in stadiums. This year alone, they've disallowed a game ball to be delivered by one during a University of Michigan football game, as well as made an example out of photographers who flew drones without permission during a football game in Tennessee.
---
Andrew Brandt is an intern with Athletic Business.