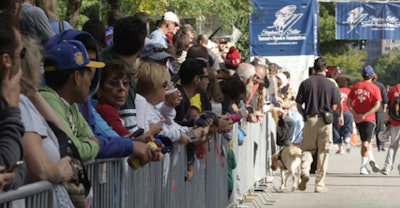 ITC consists of a selected group of anti-terrorism security and canine businesses that collectively offer multi-faceted security services and law enforcement products and services to commercial, government and military customers.
Through the National Sport Security Laboratory, NCS4 staff and four subject matter experts recently visited AMK9 Academy and Auburn University to evaluate the capabilities and efficiency of ITC Security Partners' (ITC) Vapor Wake® explosive detection canine teams.

Vapor Wake® technology, in combination with their specially trained K9 teams, are a patented technology capable of detecting moving explosives hidden on a person. The patented Vapor Wake® technology, patent # 8931327, allow ITC Vapor Wake® teams to expediently and efficiently detect and screen for explosive odors in or around large venues and high pedestrian traffic areas. The canines are purpose bred by Auburn University and rigorously trained to expedite the screening process without degrading guest experience.

The full report is available on the NCS4 Lab website.