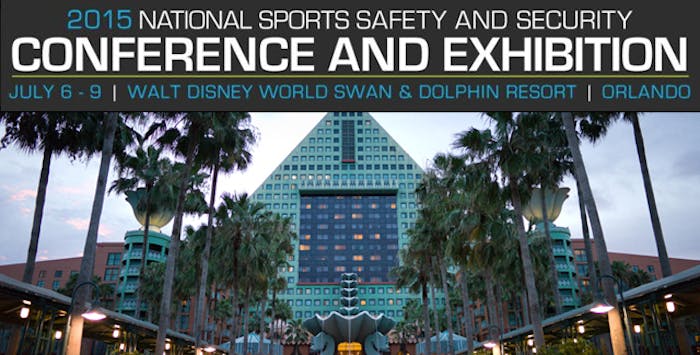 With five successful conferences already under their belts, officials at the National Center for Spectator Sports Safety and Security (NCS4), expect the sixth edition to be even better with the addition of several new programs this year.
The 6th Annual National Sports Safety and Security Conference and Exhibition is set for July 6-9, 2015 at Walt Disney World in Orlando, Florida.
For the first time in the history of the conference, on July 7th attendees are invited to take the hot seat as jurors involved in a realistic Mock Trial: Robinson vs. Collegiate Stadium.

Based upon actual cases involving alcohol abuse, fighting, personal injury, etc., the trial will help attendees manage and understand the importance of the impact of legal action against their selves, their organization or facility.

"Having excellent policies, procedures, training and operations is only one piece of the puzzle, said Chad Kasdin, Partner at Hinshaw & Culbertson LLP. "Seeing how those carefully devised plans play out at trial, in a court of law, before a judge and jury, will give you a rare opportunity to see the end game. More than likely, the experience will open your eyes to a completely different perspective."

Set in a realistic courtroom, the trial will present actual witnesses who will be cross-examined by attorneys, such as Kasdin, before a judge. While a fictional stadium is used for illustrative purposes most of the scenarios discussed are applicable to any type of event such as professional, collegiate, high school or endurance events.

At strategic points, the trial will be paused to present lessons for defense during legal action against your organization or facility, including: risk assessment, employee screening, brand protection, effective/defensive policies and procedures, etc. A follow-up discussion and workshops will allow for a one-of-a-kind learning experience.

"With the addition of the Mock Trial, we've created valuable learning opportunities and experiences not just for veterans in the sports security industry, but for students studying law, as well as lawyers themselves," said NCS4 Director Lou Marciani.

Reserve your spot at the Mock Trial today by registering for the National Sports Safety and Security Conference and Exhibition on July 6-9, 2015.