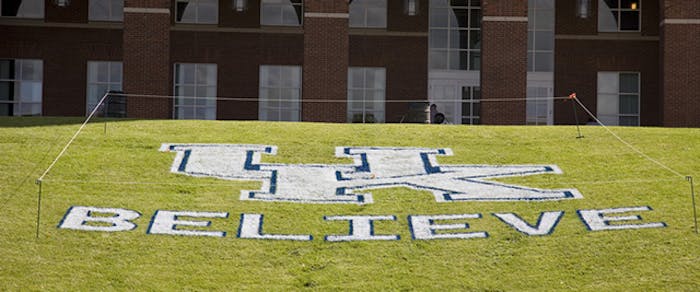 Joe Monroe, chief of police at the University of Kentucky, has gotten used to protecting the streets of Lexington from rioting fans. He's had to do so frequently over the past few years as the school's men's basketball team, led by head coach John Calipari, has made four Final Four appearances the past five years. Last Saturday night, after the previously undefeated Wildcats were eliminated from the NCAA tournament by Wisconsin, fans took to the streets of Lexington (yet again). Monroe and his campus police team (yet again) had to protect the community and keep the peace in collaboration with city police. Monroe, who teaches special-event planning for NCS4 and Texas A&M, shares his experiences while providing advice to other campus safety professionals in this Gameday Security exclusive interview:
Q: How did your previous experience prepare you for Saturday night?
A: We're used to dealing with large crowds during tournament time. What we've found is that, with the Sweet 16, that's when we really start seeing the crowds amassing and celebrating. We learned a lot in 2012 when we won the championship. There were a lot of problems. We had cars overturned, set on fire, a garage set on fire. That year was really bad and that's when we changed some tactics as well, and we took a more proactive stance on deploying high numbers of officers to those areas.
Q: What was the biggest challenge this time around?
A: The alcohol factor. This year, Saturday happened to be opening day for the horse races this year in Kentucky. So a lot of these people were at the local track tailgating all day long, and then they went out to the bars or parties to watch the game.
Q: What were the final numbers of people arrested?
A: Between the city and campus police, there was a total of 42 arrests directly related to the Final Four. Of those 42, only two were students at the university. What we see is a big problem with high school kids as well as people from surrounding colleges and neighborhoods outside the city of Lexington who come to the campus area to wreak havoc. The arrests were pretty consistent with past years, it usually stays in the 35-45 range.
Q: How do you prepare each year?
A: We train with the city every year. The city takes part of the street and we take part of the street because the university actually owns part of the street. We run a joint information center, have an EOC set up as well as incident command structures. What we found is that really helps a lot in moving forward with things. We do after-action interviews and reports. We'll then generate what will need to be changed or improved so we're better at responding next year. 
Q: What recommendations would you make to a school that hasn't faced fans rioting before?
A: Increase your numbers. We basically line the street with officers every couple feet so you have a large number of officers, some in riot gear. Instead of responding to stuff, we've become more proactive. Mobile field forces are key. These are very fluid, reactionary forces that can move very quickly to get those hot spots or problem spots and address those issues before they get out of hand. Technology also plays an important role. We have a social media monitoring team that is monitoring tweets, Snapchats and all these different social media tolls to help us know what to expect. Not just on game night, but leading up to the event.