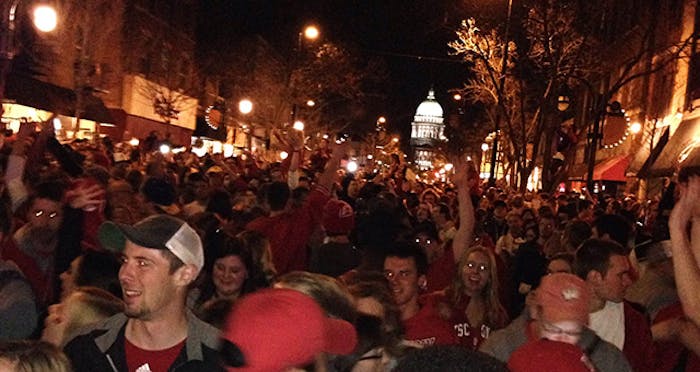 There was never any doubt that chaos would reign supreme across the streets of Lexington, but those that bleed Kentucky blue (and many that don't) expected that chaos to come tonight after Kentucky completed its perfect season with a victory over Duke. Instead, that time frame was accelerated to Saturday night when John Calipari's McDonald's All-Americans fell to Bo Ryan's Wisconsin team 71-64 in the NCAA men's basketball national semifinal.
From racial slurs to refusing to shake hands, there was plenty of drama inside Lucas Oil Stadium following the loss, but nothing compared to what Lexington police and University of Kentucky campus police were dealing with three hours southeast of Indy.
There were more people arrested near the Kentucky campus (31) than Kentucky second-half points scored (28) after 1,500 fans took to an adjacent neighborhood to the campus. Pepper balls were used to break up fights, and street sweepers were used to disperse the crowd around 2:15 a.m., according to Lexington Police spokeswoman Sherelle Roberts. Despite numerous fires and fights, Roberts reported no serious injuries or major destruction of property. By comparison, as many as 10,000 revelers poured onto State Street in downtown Madison, Wis. to celebrate after the victory. No arrests were made.
Protecting the community from angry or celebratory fans is the storm that all police departments and campus safety professionals are well-trained and ready for, but despite extensive preparation, the unexpected can still happen. When Wisconsin eliminated Arizona last year to advance to the Final Four, I discussed rioting being the real March Madness as Arizona fans took to the streets and threw bottles and firecrackers at police officers. And when Ohio State won the national football championship in January, thousands of fans rushed Ohio Stadium, with enough gaining access to tear down a temporary goal post. 
Tonight, Madison campus and city police will have one eye on the television and one on the streets as the Badgers look to win its first basketball championship since 1941. Faculty have been empowered to decide whether or not to hold evening classes. Watch parties are being held across the city. When the Badgers beat the previously unbeaten Saturday night, Madison police were exchanging high-fives with fans and even taking selfless with the crowd. While the fans were "well-behaved" and "jovial" Saturday night, something tells me that student and fan interaction will be a bit different if the Badgers fall to Duke tonight. But for my home away from home (AB Media is headquartered in Madison), I, for one, certainly hope that isn't the case.