Gameday Security examines the latest and greatest video surveillance technology solutions.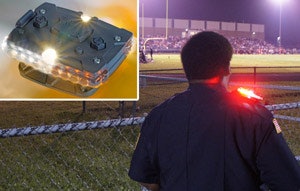 WEARABLE LIGHT BAR
The Guardian Angel® product line from 425 Inc., represents the industry's first wearable light bar designed to improve personal safety. Featuring the latest LED technology, the Guardian Angel provides visibility from more than two miles away, from above, and from a nearly 360-degree radius around the wearer, allowing attendees to identify security officials immediately. And with the amount of light provided by the Guardian Angel, wearers can be identified easily during either daytime or nighttime sporting events.
The LED lights rate up to 930 lumens each. Lighting options for the wearer also offer enhanced versatility, including forward-facing lights only, rear-facing lights only, lighting with nearly 360 degrees of illumination and/or above illumination, as well as a utility work light for reading or writing in dark environments.
The rechargeable, long-lasting battery incorporated into the Guardian Angel will allow for more than 90 hours of continuous use – equal to more than 10 professional emergency responder work shifts, or more than two standard work weeks. The outer housing is durable, water-resistant and capable of withstanding even the most punishing of weather.
The Guardian Angel is currently being used at Miller Park, home of the Milwaukee Brewers, as well as football stadiums across the country.
www.425inc.us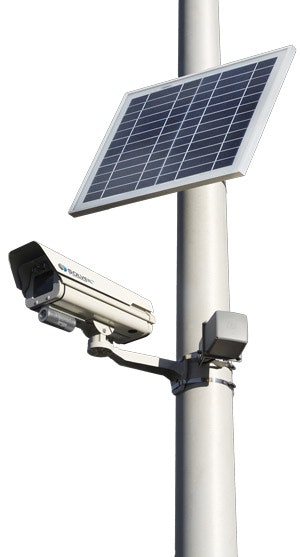 VIDEO SURVEILLANCE
MicroPower Technologies recently released its SOLVEIL™ Surveillance System, a wireless, solar-powered solution that delivers high-resolution video to ensure increased security protection, rapid investigations and operations monitoring in outdoor environments.
SOLVEIL HD, part of the SOLVEIL portfolio, is a powerful and highly reliable megapixel camera that enables users to achieve high-resolution video coverage in perimeter and outdoor areas for enhanced security and operations monitoring. The camera delivers 720p (progressive scan) megapixel resolution for detailed image capture and has configurable frame-rate capability of 15 frames per second. Its wireless and solar-power capabilities eliminate the need for power, network and transmission cabling, reducing upfront costs and installation complexity.
www.micropower.com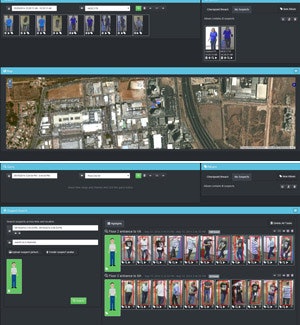 VIDEO ANALYTICS
The NICE Systems Suspect Search is a video analytics technology that provides real-time forensics of surveillance video to locate a person of interest.
According to the manufacturer, it is the only technology that actively searches for a specific person by focusing on detailed identifiers, like the color of an outfit. Using a video image, uploaded photo, or user-generated composite, Suspect Search scans hours of video in minutes, allowing security personnel to react to situations faster than ever before.
In stadiums, it is nearly impossible to spot one person in the crowd with the naked eye, but Suspect Search can locate and track individuals as they move through the masses. Fans can feel safer knowing that if a child gets lost or a fight breaks out, stadium officials can quickly locate the missing person or suspect.
www.nice.com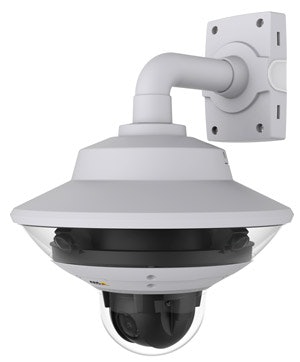 NETWORK CAMERAS
The Q6000-E PTZ Dome Network Camera from AXIS Communications features four 2-megapixel sensors, providing a complete 360-degree field of view over areas up to 215,000 square feet, approximately the size of four football fields. Integrated with an AXIS Q60-E series camera, which is easily mounted inside the Q6000-E, the solution offers full overview and the possibility to optically zoom in on any object of interest. There is no need for any mounting brackets or extra equipment, as AXIS Q6000-E uses the same brackets and network cable as the AXIS Q60-E. Furthermore, Power over Ethernet is supplied to both cameras through AXIS Q6000-E to ensure an easy installation. This makes the situational-awareness camera solution ideal for monitoring parking lots and other large, open public spaces.
With one-click PTZ control, operators can optically zoom in on details of interest with high precision without losing overview. Parking lots, concourses and even retail and concessions areas can be monitored with fewer cameras and greater detail.
www.axis.com
---