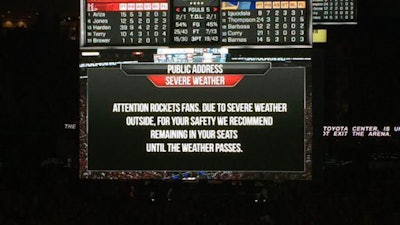 Approximately 500 Houston Rockets fans were stuck in the Toyota Center after Game 4 of the Western Conference Finals due to heavy rain and flooding around the Houston area.
As the game ended, an announcement was made and fans were asked to stay in the Toyota Center until severe thunderstorms passed the area and flooding resided.
Rockets star Dwight Howard also stayed late at the Toyota Center due to the weather, and came out and took pictures and signed autographs for fans who decided to wait out the severe weather.
#Rockets Dwight Howard comforting fans stuck in the Toyota Center following the win. #HoustonFlood pic.twitter.com/IJR7TVycGM

— Simone Eli (@SimoneEli_KPRC) May 26, 2015
The Rockets provided those who stayed with water and snacks throughout the night, and also allowed some fans into the offices in the Toyota Center if they did not want to stay in the arena.
Although the weather subsided and fans were eventually allowed to leave, as of 5:45 a.m. about 100 fans were still at the Toyota Center because their cars were not able to drive through the high levels of water in the area.