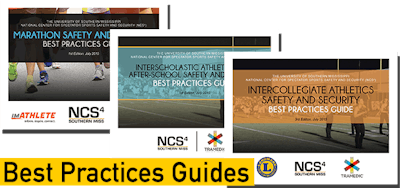 Keeping fans and patrons safe at your facility or events has never been more challenging. To help, the National Center for Spectator Sports Safety and Security (NCS4) at the University of Southern Mississippi has created free comprehensive "Best Practices" guides in the following areas:
(Click to access the free downloadalbe PDF.)

As the media partner of the NCS4, Athletic Business is proud to offer these important downloadable guides to our readers.


About the Best Practices Guides:
The environment and threats surrounding sporting events change, and as a result, should be considered a living document that must change to meet challenges, take advantage of new resources, and avoid the development of patterns that could result in a security or safety risk. Continuous improvement should be the standard by which each sport organization's safety and security plan is reviewed and refreshed.

In order to obtain the mission described above, the NCS4 hosted three annual summits in 2014-15: (Intercollegiate Athletics, Interscholastic Athletics and After-School Activities; and Marathons).

Representatives from the above areas such as event managers, law enforcement, emergency managers, fire, medical, technologist and public safety agencies addressed their current safety and security issues, identified solutions as well as proposed future best practices through professional collaboration.

The intent of NCS4 is to share these important documents in order to assist those responsible for safety and security at sporting events. It is our hope these events as well as the governing bodies will adopt these important practices.