More than 80 experts in sports security convened for the inaugural Professional Sports Facilities Summit this past March at The University of Southern Mississippi's National Center for Spectator Sports Safety and Security in Hattiesburg. Attendees included event and facility managers, operations personnel, local and state law enforcement officers, government officials, emergency managers, emergency services personnel and invited solution providers.
SPECIAL THANKS TO THE 2016 ADVISORY COMMITTEE
Brent Arendt
AT&T Stadium
John Ball
Pacers Sports & Entertainment
Matthew Bettenhausen
AEG
Troy Brown
Cleveland Browns
David Born
Staples Center
Joe Coomer
Mercedes-Benz Stadium/Atlanta
Danny DeLorenzi
MetLife Stadium
Rick Fenton
Detroit Tigers
Kevin Henry
Pocono Raceway
Brian Herbert
Cleveland Cavaliers
Ed Klima
Dover Raceway
JT Klingenmeier
BBVA Compass Stadium
Rick Knight
Arizona Cardinals
Billy Lagenstein
U.S. Bank Stadium
Todd Letcher
Yankee Stadium
Lance Massey
University of Phoenix Stadium
Steve Olson
PGA Tour
Don Paisant
SMG New Orleans
Kirk Randazzo
Madison Square Garden
David Shaw
Brickyard
Greg Terp
Miami Marlins
"The summit gives us an opportunity to review the environment and threats surrounding the multiple events hosted at professional sports facilities," says NCS4 director Dr. Lou Marciani. "Every stadium and arena is presented with challenges in implementing safety and security best operatory practices. The summit gives industry leaders a chance to discuss best practices in a collaborative environment with the goal of developing a comprehensive guide that will be the industry standard."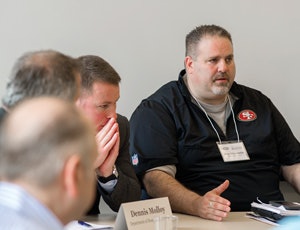 The summit featured keynote speakers and panel discussions covering topics such as parking lot security, gun-carrying issues relative to off-duty personnel, and violent extremist attacks. Industry leaders from as far away as Canada, England, and China participated in the summit.
John Beattie, stadium and facilities director for the Arsenal Football Club/Emirates Stadium in London, points out that every idea or suggestion gleaned from the summit offers a potential solution. "If we leave here with just one idea for enhancing our security operations, then the trip will have certainly been worthwhile," said Beattie. "Safety and security were always part of the background at major sporting venues, but we're seeing it more now at the forefront. Unfortunately, it takes something serious like the Paris attacks to happen before significant change occurs."
Jim Mercurio, vice president of, stadium operations/general manager for the San Francisco 49ers, recently helped coordinate one of sports' biggest events – the Super Bowl — when Levi's Stadium hosted the 50th edition of pro football's championship game in February. He commends NCS4 officials for taking a lead role in safety and security at spectator events.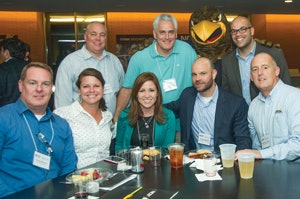 "We are very proud to be part of this summit," Mercurio says. "NCS4 is out front in establishing best practices for professional leagues and colleges, and we fully support its efforts. Communication and collaboration are essential as we continue to look for ways to improve safety and security at our venues."
---
This article originally appeared in the Spring 2016 issue of Gameday with the title "Inaugural professional summit brings together industry leaders worldwide"