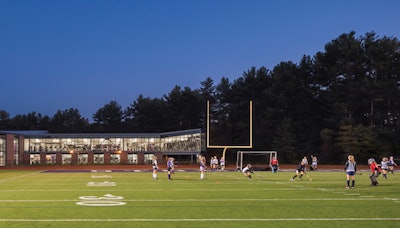 Gain free access to the slides and recording of this Athletic Business webinar, hosted in conjunction with Earth Networks.
>> Click here to download slides or watch webinar recording <<

Maryland SoccerPlex director of operations Keith Lenert and Earth Networks Meteorologist Steve Prinzivalli walk you through the people, process and technology behind an effective severe weather management plan for your organization.

Weather is an important part of any outdoor athletics program. Whether you are an athletic trainer supervising practice, an operations manager managing a sporting facility or an athletic director with multiple outdoor athletic venues to worry about; managing weather can take a lot of your time, taking you away from your primary focus: Managing a successful athletic/recreation program or facility.

Keeping students, athletes, and visitors safe from weather threats has never been easier, now that plans and technology can be your guide. Learn how to make weather-related decision making easier with severe alerting and storm tracking tools and hear from one large sports facility about how they've put a winning weather management solution in place.


YOU WILL LEARN ABOUT:
• Severe weather threats
• The people, process and technology behind an effective severe weather management plan
• What a winning weather management solution looks like in practice

WHO WILL BENEFIT FROM THIS WEBINAR:
• Athletic Directors, Athletic Trainers, Athletic and Campus Recreation Staff at Schools and Universities
• Operations Managers at Sports Complexes and Venues
• Recreation and Parks Directors and Staff
• Anyone who has to manage large outdoor athletic spaces

>> Click here to download slides or watch webinar recording <<