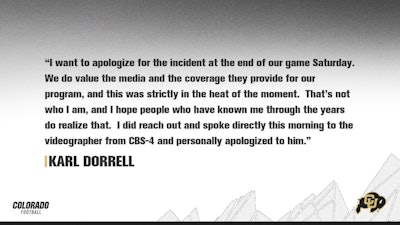 The athletic director and head coach of the Colorado Buffaloes football program have now both apologized for a shoving incident following the 37-14 loss to Southern California in Boulder on Saturday.
According to an Associated Press report, a photojournalist from CBS-affiliate KCNC-TV in Denver was filming football coach Karl Dorrell as he was heading off Folsom Field following the Buffaloes' fourth consecutive loss. That's when Dorrell, jogging past, reaches toward the camera and shoves it. The photojournalist, Ryan Greene, tweeted a 7-second clip of the moment Saturday evening, saying, "things are going well for Buffs football."
On Saturday night, Colorado athletic director Rick George tweeted an apology on behalf of Dorrell and the team, saying "Coach Dorrell sends his apologies to the local journalist who he intercepted after today's game. We treat journalists with respect and apologize for falling short of that today."
The tweet was criticized because it didn't come from Dorrell, and for characterizing Dorrell's actions as an interception, ESPN reported.
CBS4 reported that Greene has been a photographer covering sports for 25 years and has captured shots of coaches running on the field hundreds of times.
"He had the proper credentials through the University of Colorado to be on the field and he did nothing to prompt the coach to react the way he did," the news station reported.
On Sunday, Dorrell tweeted a statement apologizing.
"I want to apologize for the incident at the end of our game Saturday," Dorrell said in a statement. "We do value the media and the coverage they provide for our program, and this was strictly in the heat of the moment. That's not who I am, and I hope people who have known me through the years do realize that. I did reach out and spoke directly this morning to the videographer from CBS-4 and personally apologized to him."
According to ESPN, Dorrell is 5-6 in his two seasons in Boulder. He was hired in February 2020 and COVID-19 shut down all college sports in March 2020. Dorrell had to wait 288 days before he could run his first practice.
The Buffaloes went 4-2 in Dorrell's first season. Six games were canceled because of the pandemic. The team lost to Texas in the Alamo Bowl.
This season's opener was a win over Northern Colorado, but the Buffaloes have since lost to Texas A&M, Minnesota and USC at home and Arizona State on the road.
Colorado will host Arizona on Oct. 16.