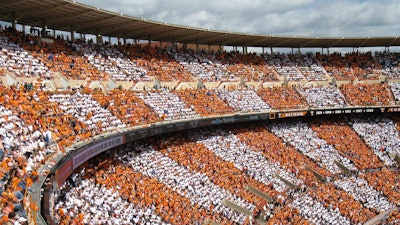 The Southeastern Conference announced it will withhold $250,000 from the University of Tennessee's share of league revenues as a result of the disruption caused by fans near the end of Saturday night's game against Mississippi.
Trash rained down from the Neyland Stadium student sections and play was suspended during the last minute of a game Ole Miss would win, 31-26.
"I was in communication with Commissioner Sankey throughout the weekend, and we discussed a variety of things that took place Saturday night," White said. "As I stated after the game, the actions that led to the temporary stoppage of play were unacceptable. The conduct of a small percentage of fans has led to unfortunate consequences on multiple fronts. While I don't believe that conduct is representative of the Tennessee fanbase as a whole, I understand this imperative action by the league. Safety is paramount."
The SEC also announced that Tennessee would "be required to use all available resources" to identify those who threw items and ban them from any athletic events for the remainder of the year, according to Sports Illustrated.
"Some elements of what the league office has instructed were already in motion, as a review of in-venue video began this weekend. Internally — and in collaboration with our campus partners — we'll continue to evaluate accountability measures and develop an action and education plan for future games," White said.
At the root of fans' unrest were two plays that required officials to huddle before ruling in favor of Ole Miss in both cases. In the first quarter, an apparent fumble recovery for a 42-yard Tennessee touchdown was negated after officials determined the Ole Miss ball carrier's forward progress had been stopped and the play was dead. Then, with just 54 seconds remaining in the game, a questionable spot of the ball prevented Tennesse from picking up a first down critical to sustaining a would-be go-head scoring drive. That's when objects — including cans, bottles, cups and cardboard boxes — began to litter the field.
Moreover, Ole Miss head coach Lane Kiffin, making a return to Knoxville after serving as UT's coach in 2009, was struck by a thrown golfball.
Tennessee coach Josh Heupel said he was told by officials that the first-quarter fumble recovery was not a reviewable play.
"The officials huddled after the play and determined that forward progress had been stopped. Therefore, there was no fumble on the play," the SEC said in a statement, at the request of the Knoxville News Sentinel. "It is not uncommon for officials that are not certain in real time of the status of a loose ball to let a play finish before gathering together to compare notes to correctly officiate the play."
The fourth-quarter ball spot was upheld by video review, but that extra bit of officiating did little to appease Vols fans — many of whom faced consequences for their actions.
According to SI, the University of Tennessee Police Department reported 18 arrests and 47 ejections resulting from the trash-throwing incident, which delayed the game some 20 minutes.
UT chancellor Donde Plowman said students identified to be culprits could face even lengthier event bans, and a university spokesperson indicated that more security cameras may be trained on Neyland's student sections in the future. The university is awaiting recommendations from UTPD and the Division of Student Life to prevent similar behavior in the future, Plowman said.