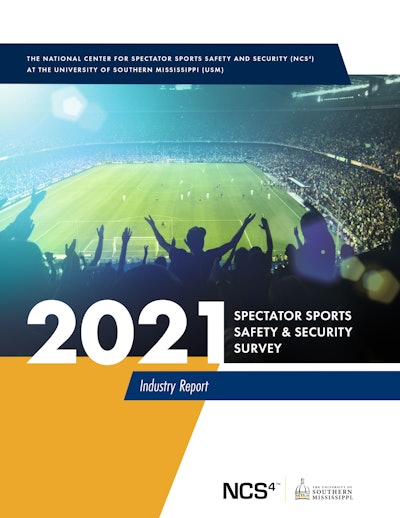 The National Center for Spectator Sports Safety and Security (NCS4) at The University of Southern Mississippi conducted a survey on spectator perceptions of safety and security practices and technologies in July 2021.
The study aimed to gauge spectators' perceptions of safety and security at events they had attended, their awareness of measures to help reduce and prevent problems, and their support for policies in place as the public returns to live events during the evolving COVID-19 threat. Understanding spectators' perceptions of safety and security practices, their sense of safety, and their embrace of related technologies while attending events can help venue and event directors plan accordingly to ensure the optimal spectator experience.
The sample population criteria were individuals 18 or older who had attended a live professional or intercollegiate sporting event within the past three years. A total of 609 participants representing 528 ZIP codes across the continental U.S. completed the survey.
Safety and security appear to be on spectators' minds as they consider attending sports events, and 77 percent (agreed or strongly agreed) of participants prefer security measures to be visible at events. Most participants were aware of their event's safety and security measures before they attended and know how to seek emergency help at an event once there. Before an event occurs, the preferred methods for receiving safety and security information were via website, email and ticket.
Participants highly supported general safety and security practices, such as the presence of law enforcement and venue security personnel, screening detection technologies, security cameras, wand detection, bag searches, incident reporting and the use of K-9 units. Facial recognition, social media monitoring and no-bag policies proved less favorable, although many participants indicated levels of neutrality rather than disagreement. Females more than males tended to disagree with the no-bag policy.
The majority of participants (75.4 percent) plan to attend an event in 2021, primarily MLB, NFL or college football games. Those who will not attend an event selected COVID-19 as the main reason. Approximately 68 percent of respondents had received the maximum number of available COVID-19 vaccine doses, and two-thirds of those not vaccinated said they did not plan to get vaccinated.
Participants agreed or strongly agreed on the use of temperature checks, digital health passes (proof of vaccination or negative test), and enhanced cleaning and sanitizing services. The 18-to-24 age group trended more than other age groups toward the importance of contactless/cashless operations, designated areas for drinking and eating, and mask requirements when deciding to attend an event.
The most important policy that participants factored when deciding whether to attend future sports events was a facility certificate of hygiene and disinfectant compliance, followed closely by social distancing requirements. Venue capacity restrictions did not seem to affect the participants' willingness to attend events. Approximately 70 percent of participants would be willing to pay a minimal additional ticket fee — ranging from 50 cents to $5 — for safety and security measures.
In conclusion, spectators consider security prior to attending a sporting event but also feel safe while there. They embrace the safety and security measures implemented by venue and event management, particularly visible security measures. Furthermore, they were willing to encounter additional COVID-related safety and security measures such as temperature checks, digital health passes and touchless screening in order to return to live events. A major factor in decision-making is that the venue and event enhance its cleaning and hygiene protocols, specifically achieving a facility certificate of compliance.
---
*The project was approved by USM's Institutional Review Board, which reviews academic research involving human subjects to ensure that it follows federal and university requirements. The NCS4 will administer the spectator survey annually to investigate the general perceptions of industry safety and security practices and the potential impact of related current events among sports spectators, such as COVID-19, in 2021. The report is available on NCS4's website at https://ncs4.usm.edu/research/industry-reports/