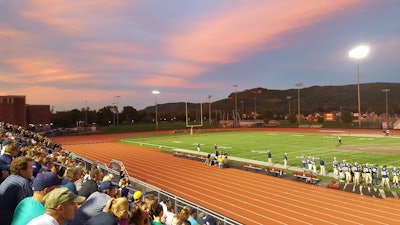 Gunfire has become an all too frequent concern at high school football games, and the mere thought that a gun might have been present at a game in Coushatta, La., sent fans, players and cheerleaders scattering for safety. While it proved to be a false alarm, Red River High School's homecoming matchup against Lakeview was halted with 3:41 to play in the third quarter.
As reported by ABC affiliate KTBS in Shreveport, a roar rose up from the home crowd and nearly everyone in the stands started making a dash for the exits in a panic. Most fans headed to the parking lot, while several jumped a fence onto the stadium track.
Sheriff's deputies and Coushatta police rushed into the stands to search for evidence as they tried to determine the cause of the panic, while school officials tried to expedite the evacuation. Other officers interviewed spectators once they had exited the stadium.
Coaches of both teams sent their players running to the locker rooms, and cheerleaders and members of the homecoming court, who had been watching the game from the track, scrambled to the field house. Game officials also hurried to their locker room.
At 9:08 p.m., Red River athletic director Norman Picou made the announcement on the public address system that all remaining fans were to clear the stadium immediately.
Red River Parish school officials issued a statement late Friday night, as reported by KTBS:
"In response to the incident at the football game at Pat Strother stadium against Lakeview. Red River Parish Schools can 100% guarantee that there was no gun or gun shots at the stadium. We have reviewed security cameras and confirmed that there were no shots fired and no gun. It was a panic created by a group of spectators. Red River Parish Schools would like to thank the Red River Parish sheriff's deputies and Coushatta City police for their quick response to ensure that our students and fans were safe and secure."
The score at the time of the evacuation remained the final, with Red River winning the game, 42-6.