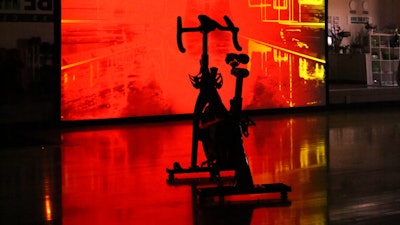 A Massachusetts woman nearly lost her leg and almost died after developing rhabdomyolysis following an indoor cycling class.
Kaelyn Franco, 23, suffered severe pain and swelling following the class. She eventually underwent emergency surgery to cut open her leg and relieve the pressure. Two months later, NBC reported that she's still walking on crutches.
Rhabdo is a syndrome that happens when damaged muscle begins to dissolve and muscle fiber is released into the bloodstream. Intense exercise can trigger the condition, which can cause severe kidney damage.
Franco suffered the condition after just her first 45-minute spin class.
"I was definitely pushing myself for sure, but I don't think I was overworking myself to the point where I was like, OK I really overdid it," Franco recalled. "(But) as soon as I stepped off the bike, my knees just gave out and I pretty much fell. I thought that was strange at first, but then I was like maybe it's just my muscles are tired, weak and just a little bit sore."
Over the next few days, Franco noticed her legs were swelling, she had trouble walking, and her urine turned dark brown — all common symptoms of rhabdo. Doctors immediately put her on Intravenous fluids, but Franco developed acute compartment syndrome in her right leg, a condition where pressure builds in the muscle to the point that it decreases blood flow.