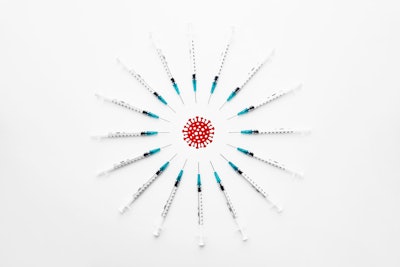 As predicted, the COVID-19 Omicron variant has become the disease's dominant strain, and schools such as the University of Alabama and the University of New Mexico have responded by ramping up their safety protocols yet again.
At Alabama, football coach Nick Saban said Monday that the team is back to wearing masks in the team's facility and social distancing during meetings, as reported by ESPN.
"Am I concerned?" Saban said. "I'm always concerned when there's an issue out there, and we want to do the best we can to help our players be concerned about the issue and respect it so they have the best opportunity to stay safe."
However, unlike a year ago, Saban can take some comfort in the knowledge that more than 90 percent of his players are vaccinated and have received their booster shots.
Saban said he and his staff are doing their best to educate players on the risks of the virus, and sending them home with a "care package with everything they need to stay safe."
"They're really bought in to do everything they can to stay safe," Saban said of the players. "There's no guarantee, so we want to use every protocol we can to help them stay safe."
No. 1 Alabama has at most two games left on its schedule. The Tide will play No. 4 Cincinnati in the CFP semifinal at the Goodyear Cotton Bowl Classic on New Year's Eve.
Meanwhile, the University of New Mexico is just getting into the thick of its basketball schedule, and has tightened the rules of entry into its home venue — known as The Pit.
Patrons will need to provide proof of COVID-19 vaccination status — namely, two shots of the Pfizer or Moderna vaccine, or one shot of the Johnson & Johnson vaccine, with the last shot received at least two weeks prior to the date of event entry. The requirement will not apply to fans that are under 12 years old. UNM officials said Lobo fans could also provide proof of a negative COVID test — a PCR test within 72 hours of the event or an antigen test within 24 hours of the event. Home COVID tests will not be valid. Fans can present a picture of their vaccination card on their phone.
Officials also announced that fans who need a COVID test will be able to get tested for free in the Stadium East parking lot, beginning two hours prior to game time. Masks are still required to be worn inside.
The changes, which will take effect with Dec. 28 and extend through January before being reassessed, require 20 to 30 additional staff members at each game. They are changes UNM officials weren't expecting to make at the start of the month, but surging case numbers have forced schools everywhere to adjust on the fly.
"The university has a responsibility to our student-athletes, coaches, staff and the thousands of passionate Lobo fans, to do what we can to protect the health and safety of those competing, coaching, working, watching, and cheering the game," said vice president/director of athletics Eddie Nuñez, as reported by KOB 4 in Albuquerque. "We ask for your understanding and patience as the new requirements are implemented. Our fans are the reason The Pit is the iconic venue that it is and why our student-athletes compete every day to represent them and this great state. Please help us keep our student-athletes and everyone in our community safe."