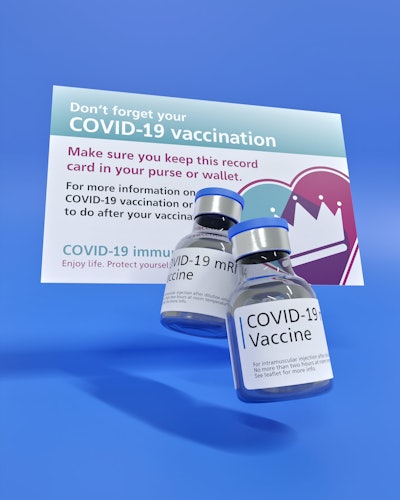 At least three Big Ten Conference member schools — Michigan, Michigan State and Maryland — have updated protocols for attending sporting events on their respective campuses.
According to a University of Michigan release, one of the following will be required to enter indoor sporting events:
An official, government-issued vaccination card listing the guest's name and dates the last dose was administered
A photo or digital version of an official government-issued vaccination card listing the guest's name and dates the last dose was administered
For U-M faculty/staff, displaying the ResponsiBLUE app to confirm compliance with the U-M COVID-19 vaccination requirement
For U-M students, displaying their valid MCard
A printed or digital negative COVID-19 PCR or rapid test administered by a healthcare professional within 72 hours of the event that includes the guest's name and date the last test was administered (over-the-counter or home testing kit results are not accepted).
Fans age 12 or older who cannot satisfy any of these requirements will be denied entry. As reported by All About Ann Arbor, the policy will remain in effect until further notice.  
Likewise, in-state rival Michigan State is now requiring proof of vaccination or a negative COVID-19 test within 72 hours to attend athletic events on the East Lansing campus for all fans 12 and older. The policy applies to men's and women's basketball, hockey, wrestling and gymnastics home events, beginning with the Jan. 5 men's basketball game against Nebraska. The policy will continue for the duration of winter/indoor athletic events, as reported by the Associated Press.
To meet the vaccine requirement, attendees must show their COVID-19 vaccination card or a digital image along with a photo ID matching the name on the card. Attendees who cannot provide proof of vaccination should bring a photo ID and either a printout or photo of their negative COVID-19 test taken within 72 hours before the event start time. People ages 17 and under accompanied by an adult will not be required to show a photo ID.
Maryland's policy, announced Monday, will go into effect Jan. 9 and remain in effect until further notice, according to CBS affiliate WJZ in Baltimore.
All attendees age 12 and older can provide the following:
A COVID-19 vaccination card

A picture of COVID-19 vaccination card

A screenshot of vaccination records from a pharmacy

A screenshot of test results of negative PCR or rapid antigen test within 48 hours of the game (home tests will not be accepted)
Fans 18 and older will have to show a photo ID to verify their vaccination card or negative test. Attendees age 12 and younger are exempt from the policy. University of Maryland students, who are already required to be vaccinated against COVID-19, do not have to provide proof of vaccination.
All three schools will continue to enforce mask-wearing during indoor events, with exceptions made for active eating and drinking. At Maryland, where concessions stands will remain closed until Jan. 9, anyone found to be in violation of the policy will be given an initial verbal warning. A second violation will lead to ejection without refund, the university said.