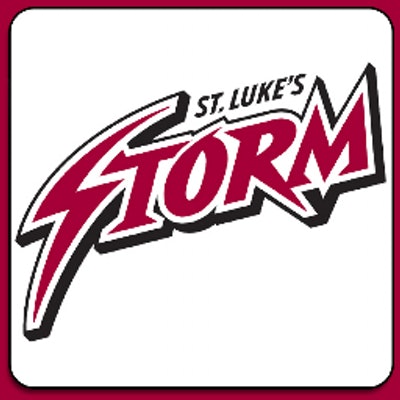 A Connecticut high school junior varsity hockey player died late last week after his neck was cut by an opponent's skate during an on-ice collision.
Teddy Balkind, a sophomore at St. Luke's School in New Canaan, fell to ice during typical game action Thursday, but an opposing player from Brunswick School in Greenwich could not stop before making contact with Balkind.
As reported by The New York Times, the game was immediately stopped and staff members called 911. Balkind was treated at the scene before being taken to a hospital but he did not survive surgery, school officials said.
"Our community is mourning," Mark Davis, the head of St. Luke's said in a statement. "We lost a precious young man in a tragic accident. Both St. Luke's School and Brunswick School are in shock as we work to support our students and families. St. Luke's singular focus at this moment is to care for our devastated community."
The game had been "entirely normal and unremarkable" before the accident took place, according to officials at the Brunswick School, where the game was played.
Balkind was a longtime hockey player, skating for the New Canaan Winter Club. He had attended St. Luke's, a private institution with grades 5 through 12, since middle school.
St. Luke's was closed on Friday because of snow but school officials told students the building would be open to offer community members space to process the death. According to the school's website, Monday's schedule was altered, including a delayed 10 a.m. start. "Sending love to our St. Luke's community," the message read.
Officials at the Brunswick School, the all-boys private school and the host of Thursday's game, said in messages to students that counseling and support services would be in place for the hockey players, the Times reported.
After Balkind's death was confirmed in local news reports, families and community members in New Canaan leaned hockey sticks and other sports equipment alongside their door frames and on their porches in his memory.
Clark Jones, the director of hockey at the New Canaan Winter Club, called Balkind a positive presence on the team and said the community was deeply struggling with the loss. "We lost a tremendous young man," Jones tweeted Friday. "Always smiling, a great teammate, and a passionate hockey player."
National Hockey League teams, including the New York Rangers, posted messages to Balkind's family. "While it's hard to put into words the impact of such a loss, know that our thoughts, prayers and hearts are with you," the Rangers wrote on Twitter.
Cam Atkinson, a right winger on the Philadelphia Flyers, shared a photo of him participating in the remembrance on social media, writing that he was "heartbroken" for the family. "A horrible tragedy playing the game we all love," Atkinson said.