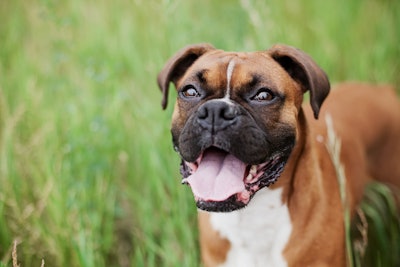 An athletic trainer at Trevecca Nazarene University is using a unique prescription to ease athlete anxiety when they enter the training room for treatment: dogs.
"There's the anxiety of, 'Well if I go in [the training room] they're going to take me out, and I want to compete,'"Austin Krause, head trainer at Travecca Nazarene, told Trevoches Online. "And so the idea is that there's this dog that doesn't judge you, just wants to love, just wants to have fun, so you can come in here and that kind of takes some of that anxiety out."
Athletic director Mark Elliot gave Krause the go-ahead to bring his two boxers into the training room after Krause showed Elliot the solid research behind the effectiveness of therapy dogs. 
"The University of North Carolina baseball has a therapy dog that has actually shown really promising results with some of their long-term rehabs," said Krause. "Elliot agreed…he seems to love the idea."
While Krause's dogs are not trained therapy dogs, they've been trained to greet people in an effort to offer emotional support for the athletes. 
"We never had the dogs [during] the past few years, so I really have noticed a difference with them this year," said Cassi Peck, another athletic trainer at Trevecca. "The athletes love it when either one is here."
The athletes have also enjoyed the dogs. 
"I have to do physical therapy on my ankle every day, and I absolutely love having the dogs there," said Morgan McMurray, a volleyball player at Trevecca. "I always walk in with a negative attitude, I guess, because I hate going every day, but the second the dogs come in with their little sweatshirts and sweatpants on, it just makes my day 100 percent better."