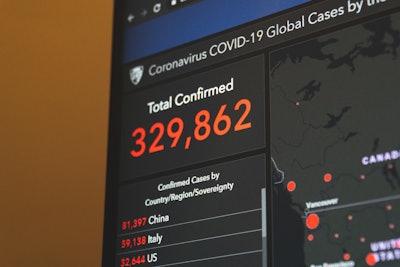 The Centers for Disease Control and Prevention has recommended that schools cancel high-contact sports like wrestling and football, as well as large campus organizations such as band. However, few are following the advice.
The CDC made the recommendations in the hopes of limiting the spread of COVID-19, but many worry the move would have a negative impact on student mental health.
"If they were to cancel sports and band, it'd be really tough on these kids. For a lot of them, this is their life," Morro Bay (Calif.) High athletic director John Andree told KSBY.
Even officials associated with the CDC say the recommendations are unrealistic.
Dr. William Schaffner, an adviser to the CDC for four decades, told CNN it's "unlikely, unreasonable, and unrealistic" to think Americans will follow either of the agency's suggestions.
"Making public health recommendations – they are not a platonic ideal," Schaffner added. "They have to work in the real world."
The CDC has seen pushback on many of its recent recommendations, including that people who've recovered from COVID-19 can not leave their home after just five days. While they're out in public for the next five days, however, the CDC recommends that they should avoid being around more than 80 percent of the U.S. public.
As part of its guidance last updated on January 6, the CDC advised schools to "cancel or hold high-risk sports and extra-curricular activities virtually" any time a community has a "high" Covid-19 transmission rate.
The guidance links to a CDC map that shows most of the United States is experience "high" transmission at the moment.
Paul Imhoff, president of The Scholl Superintendents Association, told CNN that he doesn't know of any schools that have implemented the most recent recommendations to cancel sports.
"As schools are making decisions about having choir and band and wrestling, it's about making sure our kids are healthy in every way. I think everyone's doing their best to take care of the whole child," said Imhoff, who is a school superintendent in Ohio.