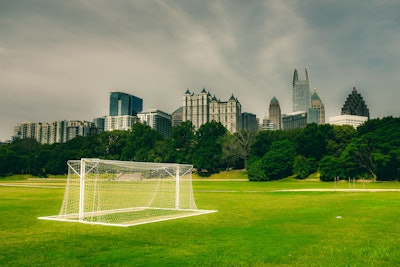 Atlanta is lagging on the installation of security cameras in its city parks after new security measures were approved by the city council five months ago.
Atlanta's City Council approved legislation to address safety concerns in the city's parks last August following the still unsolved murder of Katie Janness and her dog, Bowie, in Piedmont Park.
The council tasked Atlanta Police and the Atlanta Department of Parks and Recreation with evaluating, developing and implementing surveillance cameras in 20 city-owned parks, including Piedmont Park.
According to the local CBS affiliate, installation was slated to begin in January 2022, but that hasn't happened yet. CBS reached out to the Atlanta Police Department, which told the affiliate that they'd need to reach out to the city's parks department. The parks department then sent CBS to the Piedmont Park Conservancy, a nonprofit that manages the park, which in turn send reporters back to the police department.
"You should not have gotten the run around on open record requests from either department. They should've responded because they have done work. They work collaboratively because they reported to the committee collaboratively on the effort," said Atlanta City Councilman, Michael J. Bond, Post 1 At-Large.
Aside from Janness' murder, Atlanta parks have been plagued by crime and violence, but even after the new security measures were approved the city has been slow to make improvements.
"It's like after that report, absolutely nothing's been done," Councilman Bond added. "I'm really disappointed we haven't seen more from both Parks and APD, in this specific effort."
The Atlanta Department of Parks and Recreation told CBS46 that its initial records request when to various departments, adding that "the Department of Parks and Recreation is in the process of implementing its Security Plan."