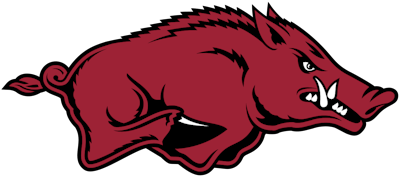 The Southeastern Conference is once again doling out fines for yet another court storming, and this time the University of Arkansas will have to cover the $250,000 tab for their own fans' exuberance.
Fans rushed the court after the Razorbacks beat No. 1 Auburn Tuesday. Those who flooded the court were mostly students clad in the school's "White Out" initiative.
According to Whole Hog Sports, the festivities last long enough that Auburn head coach Bruce Pearl did not return for his post-game interview with Auburn Radio Network.
The Razorbacks received the hefty $250,000 fine because this was the school's third offense. Arkansas had previously been fined for rushing the field after a 17-0 win over No. 17 LSU at Reynolds Razorback Stadium in 2014 and a 40-21 win over No. 15 Texas last Sept. 11.
Arkansas athletic director Hunter Yurachek tweeted side-by-side pictures of the aftermath of the Auburn game and that of the Texas game, tagging the image "#Priceless".
Fines levied against SEC schools due to the access of competition policy are deposited into the SEC Post-Graduate Scholarship Fund.