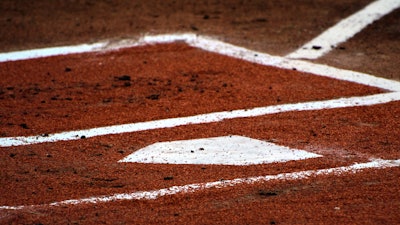 Several middle schoolers accused of attacking a baseball coach at a Texas high school last week are now in custody, according to reports. Video of the alleged assault circulated on social media, school officials said.
Officials with the Cy-Fair Independent School District in Houston confirmed the four children are students at Aragon Middle School and were on the high school campus during baseball practice, The Houston Chronicle reported. The four middle schoolers are accused of jumping the coach. They were taken into custody, school officials said.
Assistant baseball coach and physics teacher Michael Shott suffered a broken arm in the attack. Shott's mother, Peggy Shott, said her son is home recovering now.
"The reason it happened to him was because he was doing his job," Peggy Shott told KTRK-TV. "He stopped the kids. Well, there was only one kid at first. The reason the others came back is because they didn't like him stopping them."
In a statement, officials with Cy-Fair ISD condemned the actions caught on video and said they are taking the situation seriously.
"The recent safety violations that have occurred both on and off our campuses are extremely disappointing. I want to reassure you that we are taking these actions very seriously.

"Our campuses must be the safest places in our community for students, staff and visitors. We will not tolerate anyone compromising the safe environment of our campuses and will address violations to the greatest extent possible.

"We continue to encourage students, staff and community members to inform administrators, campus police officers or police dispatchers if they see or hear suspicious or illegal activity. The CFISD Tipline is accessible at the top of every district and campus webpage. The CFISD Police Dispatch can be reached 24/7 at 281-897-4337."
The Chronicle reported that Langham Creek High School Principal Jose Martinez addressed the incident in a letter Thursday, asking students and community members not to discuss the incident with students and community members to "preserve the integrity" of the investigation with the Aragon administration and the CFISD police department.
The school said the day after the attack, threats were made against the school on social media, and the district implemented additional security measures on campus.