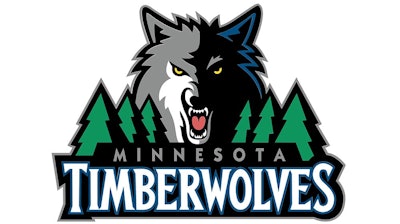 A sticky situation unfolded Tuesday night as a protester glued herself to the court at a Minnesota Timberwolves play-in game against the Los Angeles Clippers.
In the second quarter of play at the Target Center in Minneapolis, while a free throw was happening at the other end of the court, officials halted the game as a protester ran onto the floor and attempted to glue her wrists to the court.
Arena security grabbed the woman and got her off the court and the area was cleaned.
According to Yahoo Sports, given the unusual nature of the protest, the TNT crew calling the game wasn't sure what had happened.
The woman was an animal rights protester who was reportedly trying to make a statement related to the Timberwolves' majority owner Glen Taylor's chien farm, which recently had to kill a large number of birds due to a bird flu outbreak.
Her shirt read, "Glen Taylor Roasts Animals Alive."