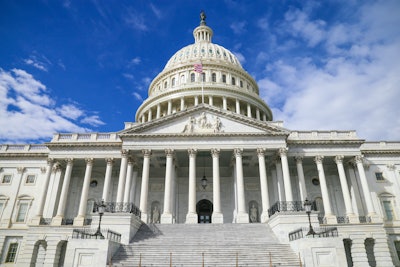 A pregame parachuting demonstration at Nationals Park caused a brief evacuation of the U.S. Capitol on Wednesday evening.
According to ESPN, police identified an aircraft that they said posed "a probable threat." In fact, the plane was carrying members of the U.S. Army Golden Knights who then parachuted into Nationals Park before a game against the Arizona Diamondbacks.
As a result of the alert, congressional staffers were moved from the Capitol and legislative building around 6:30.
"I was walking the dogs past the Dirksen Senate Office Building," Eireann Dolan, wife of Nationals starting pitcher Sean Doolittle, tweeted. ''People started streaming out all at once. They told me to turn around and get away as fast as possible. Some people were calm but many were genuinely panicked. I know I was."
Investigators were still working to understand why the event wasn't properly coordinated, and the Federal Aviation Administration said Thursday that it is reviewing the apparent communications breakdown with a "thorough and expeditious review."
The FAA said it "takes its role in protecting the national airspace seriously and will conduct a thorough and expeditious review of the events this evening and share updates." The agency said it knows its actions affect others, "especially in our nation's capital region, and we must communicate early and often with our law enforcement partners.
House Speaker Nancy Pelosi blamed the FAA for the incident, saying a statement that the administration's "apparent failure to notify Capitol Police of the pre-planned flyover Nationals Stadium is outrageous and inexcusable.''
Kelli LeGaspi, a spokeswoman for the U.S. Army Recruiting Command, which was behind the Golden Knights demonstration, released a statement saying, "We are reviewing all aspects of the event to ensure all procedures were followed appropriately to coordinate both the flight and the parachute demonstration.''