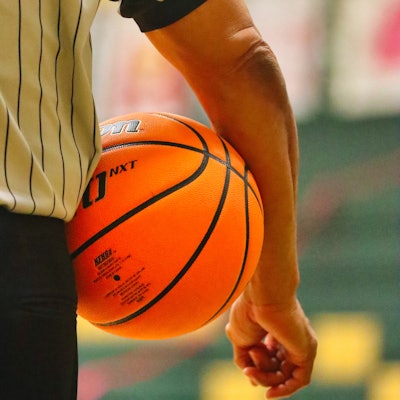 A basketball official in New York was injured when he was attacked by a player after a game, according to reports.
A video of the attack has been posted on social media that shows the referee speaking with a man around a group of people. He sits down nearby the group, and seconds later, the player ran at him and appeared to hit him multiple times with a closed fist in the face.
The game that took place before the attack was a friendly AAU basketball game Sunday with the Saratoga Splash basketball team, WRGB-TV reported.
Kean Toomey, who was another official at the game, told WRGB-TV that Sunday's attack started after the team lost and the coach went up to talk to the referee after he was unhappy with his officiating.
Toomey and the referee who was attacked are both officials with Local Board 36 of the International Association of Approved Basketball Officials.
A friendly AAU basketball game turned violent on Sunday after a player with the Saratoga Splash basketball team attacked the referee that officiated their game.https://t.co/dYU7AX2GOD

— CBS 6 Albany - WRGB (@CBS6Albany) June 9, 2022
Toomey told the CBS affiliate station that "one player threw a sucker punch and then he stood up and others gathered in and tried to hold him back and continued into the assault."
Toomey said his colleague suffered a minor concussion from the attack.
Toomey said he believes the attack could have been prevented if the tournament's organizer, Zero Gravity Basketball, took referees' concerns seriously after he told WRGB-TV that a previous incident involving the team was reported.
"A month prior to this event on Sunday, I was officiating a game with the same team, Saratoga Splash and I threw out a player of the Saratoga Splash going into halftime for trying to incite a fight and the coach came on and threatened my partner and myself, body bumped my partner," Toomey said.
After this happened, he said that they informed the staff at Zero Gravity and its regional director, Hunter Stratton, about the incident.
"We were told that this team would not be welcomed back at Zero Gravity events, which we found out to be false because they played the very next weekend and they've played multiple weekends since then," Toomey said.
State Police told WRGB-TV that it is investigating the incident, and no arrests had been made as of Wednesday.