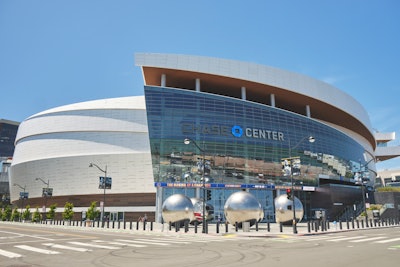 Image courtesy of dtstuff9
A Golden State Warriors fan has been banned from San Francisco's Chase Center for posing as Warriors shooting guard Klay Thompson and participating in a shoot around for about 10 minute prior to Monday's NBA Finals game.
Dawson Gurley posted to Twitter a letter he alleges is from Chase Center alerting him of the ban. The letter is signed by vice president of security Brian J. Herbert.
"One June 13, 2022, you entered through the employee entrance of Chase Center prior to a GSW (Golden State Warriors) v.s. Boston Celtics NBA Finals Basketball game without a valid ticket, valid credential, or pre-approved authorization by Chase Center, GSW, or the NBA League Office," the letter reads. "You deliberately deceived Chase Center building personnel by impersonating a GSW employee. Your being at the Chase Center without proper credentials or authorization is in direct violation of the Fan Code of Conduct of Chase Center, GSW, and the NBA League.
"You are banned, indefinitely, from attending any future NBA, WNBA, G League or 2K League games, or any concert and or event held at Chase Center. Any violation of you being found at any of these properties, whether ticketed or not, you will be subject to arrest for criminal trespass."
Dawson posted a video to YouTube of himself entering the stadium dressed in Warriors attire and passing through security. AFter shooting on the court, a woman can be seen asking for his credentials.
"No, they just let us in," he says. While being escorted out of the building, he adds: "I was just looking for the team store."