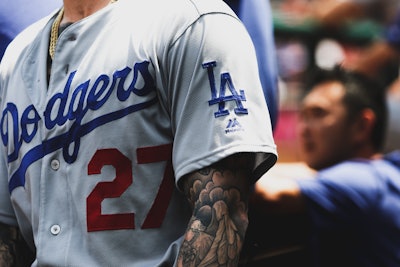 Photo courtesy of Dez Hester
More than a half dozen fans are suing Dodger Stadium, accusing security at the facility of assault and false arrests. 
The lawsuit follows a confrontation that was caught on camera between Daniel Ulteres and Dodger Stadium security at the MLB All-Star Game. 
Ulteres said he was met with hostility from security after he got sick and had to leave the game early. 
"They said 'you need to go now' and I said 'okay cool,'" Ultreras told the local NBC affiliate. "Then they started pushing me and poking at me."
Ulteres was later arrested of suspicion of batter and was jailed overnight. 
"The security personnel will approach a fan that they either believe or have heard that they have been creating some issue and they will just pull them aside and say they are ejected," Peter DiDonato, Ulteres' attorney said. 
Gregory Page Dixon alleged that Dodger security jumped him, bruised him and placed him under citizens' arrest for allegedly urinating in public. 
Dixon's attorney alleges security went too far. 
"The unlawful touching and throwing people to the ground and handcuffing them and not telling them what the issue is," DiDonato said.
Another lawsuit plaintiff, Oscar Latona, alleges he was jumped from behind by security at the All-Star Game. Latona was accused of excessive force and placed under citizens' arrest. 
"We are hoping with these lawsuits and other lawsuits against Dodger security that they wake up and finally treat the fans that are not creating problems with respect," Didonato said.
Ulteres said his experience left him not wanting anything to do with the Dodgers. 
"That was my favorite sport," Ultreras said. "Now I can't even see the Dodgers logo without feeling some type of way."