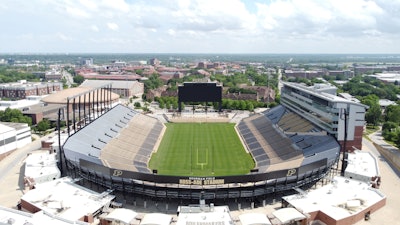 By Lectrician2 - Own work, CC BY-SA 4.0, https://commons.wikimedia.org/w/index.php?curid=108574342
An 80-year-old woman died Sunday after falling on the stairs at Purdue's Ross-Ade Stadium in Lafayette, Penn.
The woman, identified as Donna Steenbarger by Tippecanoe County Coroner Carrie Costello, was at the stadium to watch Purdue take on the Nebraska.
According to the Lafayette Journal & Courier, Steenbarger fell on the stair and hit her head. She later died at IU Health Arnett Hospital.
Costello told the Journal & Courier that Steenbarger's test and examination information from the hospital may make a autopsy unnecessary.