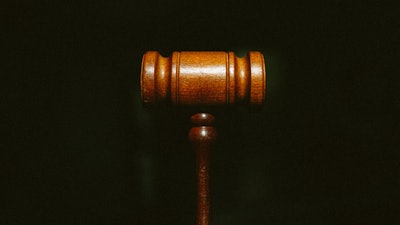 An assistant coach in Kentucky who was arrested on suspicion of sending explicit sexual text messages to a student hadn't completed a background check with the district, according to reports.
Austin Williams, 22, was booked Tuesday into Louisville Metro Corrections on charges of distributing obscene material to minors and procuring or promoting use of a minor by electronic means.
Investigators with Louisville Metro Police said Williams was an assistant coach on Oct. 1 when he sent several text messages to a 16-year-old student on the team, using the TextNow app.
Williams allegedly sent a nude image to the student, asked if she wanted to engage in sexually explicit behavior with him and asked her to send nude images of herself. The girl recognized the number as Williams' and reported the incident to her head coach, WLKY-TV reported.
The initial police report did not include the school location and at first JCPS said Williams was not associated with any school in the district, WDRB-TV reported. Several people associated with Butler High School told WDRB-TV that Williams was helping the school's girls basketball team.
When WDRB again asked JCPS about Williams' involvement with the team , a JCPS spokesperson on Monday told WDRB-TV that Williams expressed interest but never completed any employment paperwork or a background check.
"Though Mr. Williams was never hired as an assistant coach, he did have some interaction with the team," JCPS chief communications officer Carolyn Callahan said in an emailed statement to WDRB News. The district says it is now investigating how Williams was allowed access to students on the team.
Butler held a team meeting about Williams last week. JCPS said that it was a violation of district policy that Williams was allowed to interact with students even though he had not been hired or completed a background check.
Butler girls basketball head coach Lakesha Perry resigned last week, and the school named Demarcus Avery as interim coach.
Williams has pleaded not guilty to the charges. He is due back in court Thursday. The new charge has prompted a probation violation on a domestic violence case from earlier this year, WDRB-TV reported.